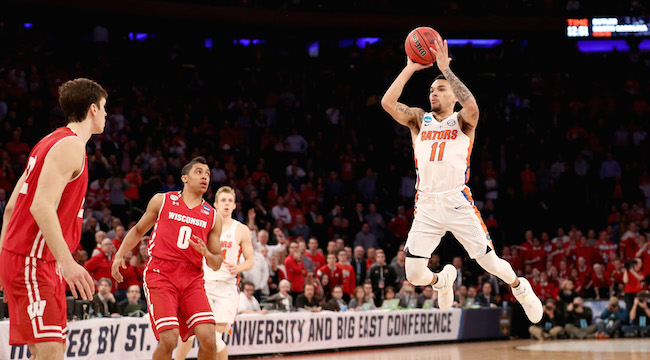 Florida stunned Wisconsin in overtime in the wee hours of the morning on Saturday. The Gators won on a running three-point buzzer-beater to win 84-83 and advance to the Elite 8.
Gators' guard Chris Chiozza took the inbound pass after Nigel Hayes of Wisconsin hit two free throws with four seconds to play and ran from the baseline to the top of the key. Chiozza hoisted up a prayer that hit nothing but net.
Here's the view of the shot from courtside:

After nearly two full weeks of NCAA Tournament action without a buzzer-beater, the Badgers and Gators gave us two amazing moments in one game. Chiozza's buzzer-beating winner in overtime only happened because Wisconsin forced overtime on an eerily similar runner for three in the final seconds of the fourth quarter.

You can see just how close the two threes were, from all angles, in this video.
The Gators fell behind to start overtime, but fought back to go down two after a pair of Canyon Barry granny-style free throws. It looked like Wisconsin would get an easy layup on the ensuing inbounds pass to go back up two-possessions, but Barry chased the play down from behind for an incredible block to preserve hope for the Gators.
It looked like Wisconsin would escape after Hayes hit his two free throws with four seconds to play after drawing a foul on another spinning drive to the basket, but Chiozza had other ideas.
The Florida win means that, after South Carolina and Kentucky won earlier in the night, three teams from the SEC will play in the Elite 8, the most of any conference, with all three in different regions. The Gators will take on the Gamecocks in the North for a spot in the Final Four, while Kentucky has to face North Carolina in the South.