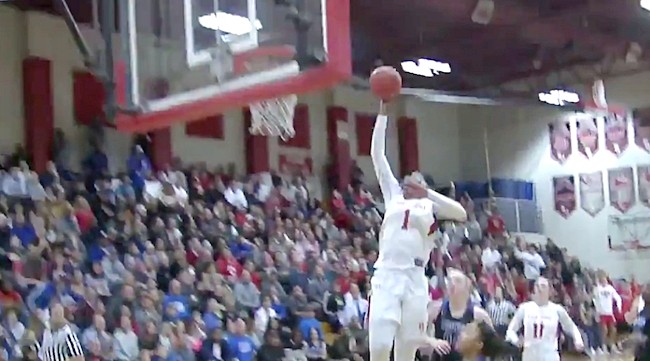 Wednesday night was a pretty spectacular night in the world of high school basketball when it came to in-game dunks.
There was Niven Glover from Oak Ridge High School in Orlando who caught a pass all alone in transition and proceeded to throw down an absurd 360 between-the-legs dunk that sent everyone in the building into hysterics. Fans scattered in the bleachers, unsure how to process what they'd just seen, which is understandable because who does that in a high school game.
However, Glover wasn't alone in shutting down a gym with a dunk on Wednesday. Fran Belibi, who plays for the women's squad at Regis Jesuit High School in Denver and is committed to play ball at Stanford, stole an entry pass and went coast-to-coast, rising up over defenders in traffic to throw down a dunk that had fans going crazy.

First off, we here at Dime love all ballers in Rec Specs throwing down dunks. Secondly, this is just nasty. She doesn't even gather the ball with two hands to go up. Belibi just picks that thing up with her right hand mid-dribble and rises up to throw it down.
The crowd erupts, as it should, and my favorite reaction is the guy that just lays down on the ground like he just died. No one can quite believe what they just saw, but yes, Fran just did that.