The best part of the NBA Draft is not the trades, the realization of a lifelong dream, or the changing direction of a franchise. Those are all great things, of course, but we all know the draft is really there to show off some awesome suits.
Best Suits Of The Night (in no particular order)
I'm Seeing Red
There was a lot of red last night. Jahlil Okafor and Kristaps Porzingis each opted for a red-themed tuxedo (Okafor had black pants, while Porzingis went all red). Kelly Oubre, perhaps in a nod to the University of Kansas, or in an accidental bit of foreshadowing, went with a glossy crimson suit with some splendid shoes. Eschewing the standard white shirt and black tie for something that pops a bit more was a great move on Oubre's part.
The best red of the night, however, goes to Bobby Portis. The Arkansas product slid down further than most imagined, but it wasn't because of his sartorial choices. The not-as-glossy crimson, the double-breasted jacket, the pocket square, and the accents on the jacket and the shirt just worked beautifully together. Double-breasted jackets are hard to pull off, one must have the correct frame and build. Portis does, and pulls the entire ensemble off with style.
D'Angelo Russell's red also deserves praise. At first glance, I thought he was wearing a white shirt, but when I took a better look and saw the red and white gingham pattern, I was all in. It's like a modern, slim fit barbershop quartet suit, and it wears so well on Russell's frame. I'm also a fan of the grey lapel (an obvious homage to Ohio State University).

Devin Booker
The bright, not-quite-baby-blue simply works for Booker here. In most cases, I'd rather see a bit more creativity with the shirt, but the white is fitting here, as it doesn't draw attention away from the suit itself. The tie is a nice complement as well: It's thin, with a great color and subtle pattern that doesn't take away from the suit, but also doesn't shy from it, either.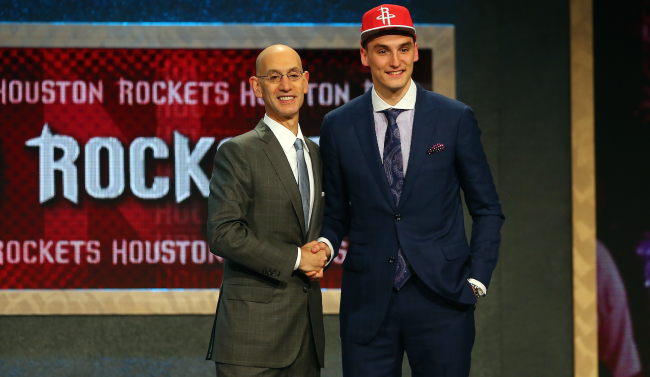 Sam Dekker
A blend of deep blues and purples, Dekker's suit soothes instead of excites. The faint checkered pattern of the pants and jacket give it a needed bit of character, while the purple shirt and tie work great as the underneath layer (I'm particularly a fan of the contrasting white spread collar). It doesn't pop at you, it doesn't scream for attention, but it doesn't need to. It knows you're going to pay attention to it anyway.

Unfortunately, and inevitably, for all great suits, there must be some awful ones, as well. Surprisingly, however, there were few terrible sartorial decisions, just puzzling or boring ones.
Worst Three (in no particular order)
Frank Kaminsky
Look, there's nothing wrong with Frank Kaminsky's suit. It's just unbearably dull. Grey can be cool, even exciting, but Kaminsky's fails to impress. It's what you'd wear to a nice dinner, maybe a friend's wedding. But this is the NBA Draft. The redeeming quality, of course, is the tanks sewn inside the jacket, but there are only so many opportunities to reveal it. Make a statement, dammit!
Rondae Hollis-Jefferson
I wanted to like this outfit. I really, really did. I love the bold choice with the pants, but it fizzles after that. A black jacket with a white shirt and black bow tie? Maybe don't go full checkered, but there are better jacket/shirt combinations. I get that you don't want to be too loud, but this just wasn't loud enough.
Willie Trill Cauley-Stein
As with Kaminsky, there's nothing necessarily "bad" about Cauley-Stein's suit. It's fine. But for someone as eccentric and different as WCS, I expected something more than just "fine."

Other Pieces I Liked And Didn't Like
THIS JACKET
I wanted to hate this jacket, but now I want this jacket more than anything in the world. The shirt, too.
Cameron Payne
Payne looks like he just came from the Kentucky Derby, or a too-late audition for Boardwalk Empire. That's not a bad thing; I think the suit is wonderful. I was surprised he could pull off the double-breasted jacket, but it looks great on him.
Karl-Anthony Towns stealing an old couch and making it into a suit 
On one hand, I'm a fan of the attempt at doing something new. One the other, this is a very bad jacket.
(ESPN and CBS Sports)