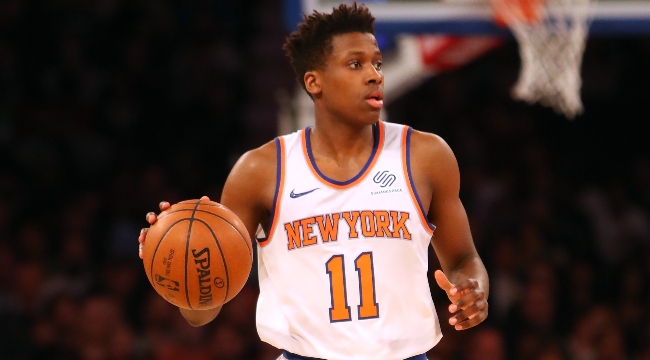 The New York Knicks, at 8-17, are somehow only 3.5 games out of the playoff race in the Eastern Conference, but there are few under any illusion that the Knicks are aiming for a playoff berth this season.
With Kristaps Porzingis still on the shelf and no timetable for his return this season, the Knicks are in the business of figuring out what pieces will work for new coach David Fizdale as they gear up for a very important offseason. New York will have plenty of cap space this summer to go after any number of major free agent targets, with Kevin Durant potentially being at the top of their wishlist. They also figure to find themselves in the lottery once again, and can hope to find their way into landing one of the top prospects available at the top of this year's draft.
Given the expectation of adding pieces to start competing next year, the audition process this season is an expedited one, and it's not always kind. Second-year point guard Frank Ntilikina is the latest casualty of Fizdale's approach to rotations, playing the hot hand and rewarding those playing well with minutes (and those not playing well with time on the bench). Ntilikina went scoreless in back-to-back games for the Knicks and has since missed the last two games with DNP-CD's while Emmanuel Mudiay has taken over the starting role.

As Fizdale explained to reporters on Wednesday, it's all part of the process and he has the backing of the front office when it comes to how he's handling rotations and sitting players like Ntilikina at times, via the New York Post's Marc Berman.
"I got a front office that supports me in that," Fizdale said regarding his tough lineup decisions in reference to Ntilikina. "We have to know who's moving forward out of this group. And it won't be every single player on this roster, unfortunately. That's the nature of the business. We have to come out of this year knowing who those guys it's going to be moving forward with us."
Fizdale and Ntilikina both noted other players, like Trey Burke and Damyean Dotson, have fallen out of the rotation this season as well before coming back and having a positive impact on the Knicks. Fizdale is hoping Ntilikina can respond the same way, and at least for now, the young Frenchman is trying to say the right things by noting he'll be ready when he gets the call to play again.
Still, all of this happening with a top-10 pick from 2017 is eyebrow raising, considering the hope was he could be the point guard of the future and now, barely a year into his career, he's catching DNP's on a bad team. As Marc Berman notes in his piece, Ntilikina was the last of the Phil Jackson draft picks, which means he has no ties to this front office or coaching staff, which often shortens the leash on a young player. This has led to plenty of rumors that Ntilikina may not be one of those guys that will be moving forward with the Knicks, and other teams from around the league are at least sniffing around to see what availability he might have on the trade market.