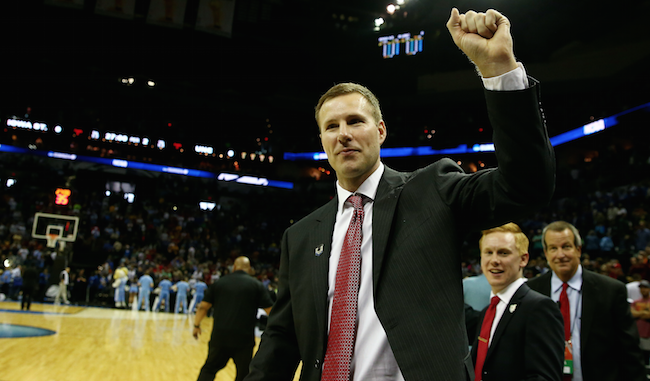 Fred Hoiberg got a raw deal in Chicago with the Bulls. You don't even have to think he's a good coach to believe this. From the first day he took the job it was always an awkward fit. The team he took over was built to grind out games and rely on Derrick Rose and Jimmy Butler to do everything. Joakim Noah was already over the hill at this point. It was leftover scraps of a Tom Thibodeau team and, despite this, they managed to finish 42-40 and barely miss the playoffs.
Nothing so perfectly summarizes the Hoiberg era in Chicago than his first season. Here is a roster of players that the front office expects something impossible from. Hoiberg will have to make do with it and in some ways, he will exceed expectations, but in many other ways, he will fall short of them. Every step of the Hoiberg process was weird from his not-so-subtle feud with Jimmy Butler, the three alphas, to trading a star like Butler on draft night to initiate a rebuild the front office apparently doesn't actually have patience for.
When you put a coach into a situation like this it becomes difficult to judge their results. At the end of the day Hoiberg didn't win enough and that's why he was fired, but can you blame a coach that felt like they were sabotaged at every turn? Some teams might. Which is why the question of Hoiberg's future becomes murky. Despite the majority of his career being spent in the NBA, his greatest success came at the college level. So it shouldn't be a surprise that Adrian Wojnarowski reported after Hoiberg's firing that he would return to the ranks of college coaching.

Hoiberg going back down to college would not be a failure. What he had going on at Iowa State was incredible. Not only did he make the NCAA Tournament in four of his five seasons in Ames, but his offense was seen as revolutionary for the college ranks. As other teams slowed it down in a methodical style, Hoiberg teams were flying around. This seems obvious to most analytics-inspired NBA fans, but Iowa State took the efficient shots. They got to the rim, shot 3-pointers, and more importantly it was fun to watch. It's no surprise that he was eventually plucked to be an NBA coach.: he was running an NBA system at the college level.
Which is partially why the Bulls were such a disaster for Hoiberg. The original teams he was given were not fast paced 3-point chucking teams. It was an immediate identity crisis. He was forced to slow it back down. His teams weren't good enough shooters to get clean looks at the rim and they weren't efficiently making their 3-pointers. Then he made the mistake many college coaches make at the NBA. He fought with the stars. It's actually stunning that he lasted as long as he did considering that when most coaches battle the star they lose. For a while, though, the Bulls stood behind him though.
Unfortunately for Hoiberg, the Bulls eventually lost their patience. If you look at this season and last season, Hoiberg was finally getting a chance to implement what he would like to do in Chicago. The problem is his system in the NBA isn't revolutionary. Everybody shoots 3-pointers and pace is up across the league. What made him different at the college level just makes him another coach in the NBA. The Bulls currently sit 15th in pace and dead last in offense. Hoiberg is running what he wants to run, but it isn't working. He never got a fair shot, but is it even worth giving him that shot in the first place? It's possible time has passed him by.
Either way, Hoiberg wants that second chance K.C. Johnson of The Chicago Tribune reported that he wants to stay in the NBA. Which it's hard to blame him. He was essentially raised in an NBA front office. His only college experience is as a player and coaching at Iowa State. He may have only taken that job to begin with because Ames is his home town. The NBA doesn't have the red tape the NCAA has all over college. It's a different world.

But what if Hoiberg doesn't get another shot at the NBA? He could go back to a front office, or sit somewhere as an assistant, but he's already proven he can succeed at the college level. And there is a job out there that he reportedly has interest in. Jeff Goodman of Stadium reported that if Hoiberg were to go back to college he would have interest in the UCLA job. There is a high profile there where Hoiberg would be able to jump back up to the NBA relatively soon if he wanted to. That is of course if the job opens up at all. Steve Alford is still the coach there for now.
Hoiberg could probably settle for a lesser profile NCAA job if he wanted to and succeed. He's proven that he can be a great coach at the college level, but he's an NBA guy in his blood. Even if he does eventually go back to college most expect him to try and make the NBA jump again. Especially when the Bulls job had to leave such a sour taste in his mouth. Even if time did pass Hoiberg by, he never got the fair shake at the NBA he wanted. Just when he finally got a roster that could maybe fit his desires, he gets fired before he even has a chance to develop it. Hoiberg deserves a second chance somewhere, he just might not get it before he coaches in college again first.