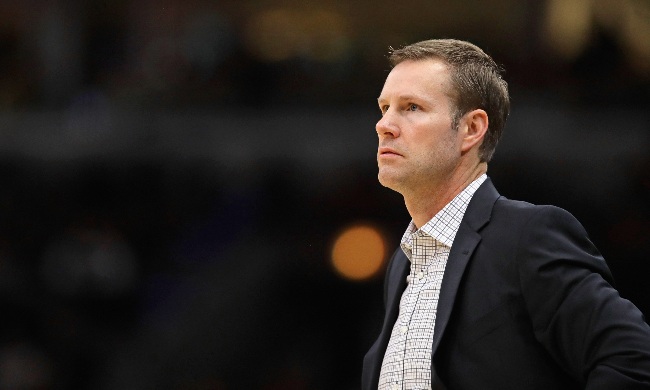 When the Chicago Bulls elected to part ways with Fred Hoiberg in December, many believed it wouldn't take long for the 46-year-old to return to the bench in some capacity. Hoiberg reportedly wanted to stay in the NBA mix but, given his previous success as the head coach at Iowa State, plenty of college-based rumblings immediately came to the surface, particularly through the prism of UCLA.
Word broke on Monday, however, that a different major college program could have their sights set on Hoiberg, with the Nebraska Cornhuskers making him the "frontrunner" to take over for Tim Miles.

It is important to note that, at this stage, Miles remains in place as the head coach of Nebraska and he is widely respected in the sport. But as this suggests, there appears to be a strong possibility that a change is made. Beyond that, Hoiberg being the "frontrunner" would not guarantee an agreement between the two parties but, at the very least, this is an interesting hypothetical.
In January, Hoiberg was reportedly linked to the Minnesota Timberwolves as a potential coach or executive but, since then, things have cooled in the public sphere. The full coaching carousel hasn't taken place at the college level but, if Nebraska wanted to spring into action with haste, they could have an inside track to get Hoiberg before other offers could fully matriculate to his doorstep.
Hoiberg posted a 115-56 record while on the sidelines at his alma mater of Iowa State, lending credence to the notion that he would be effective elsewhere at the college level. Nebraska isn't exactly known for its exploits on the basketball floor but, in the same breath, Hoiberg was born in Lincoln and, with his pedigree, the Cornhuskers may be able to provide their fan base with renewed energy if an agreement came together.