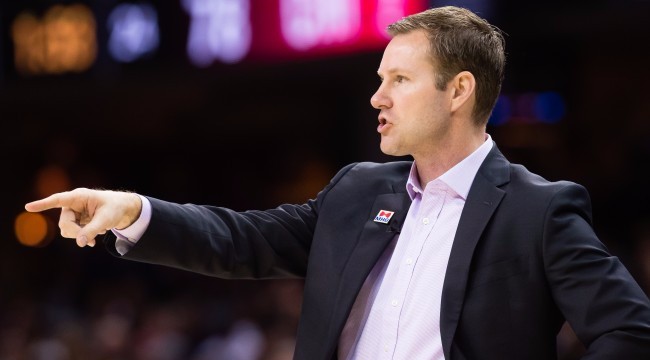 Chicago Bulls head coach Fred Hoiberg spent time between Game 4 and Game 5 grousing about Boston Celtics guard Isaiah Thomas, who he claimed carried the ball on every dribble. Weirdly, this statement occurred after the Bulls had blown a 2-0 series lead and found themselves heading back to Boston tied 2-2.
"Let me say this: Isaiah Thomas is a hell of a player. An unbelievable competitor," Hoiberg said after Game 4. "He's a warrior — everything he's going through right now, he had a hell of a game tonight. But when you're allowed to discontinue your dribble on every possession, he is impossible to guard. He's impossible to guard. When you're able to put your hand underneath the ball, and take two or three steps and put it back down, it's impossible to guard him in those situations."
Hoiberg sounds a little like your dad complaining that all NBA players walk on every play. Whether this was something he truly believed or gamesmanship, a reporter threw that statement back in Hoiberg's face after Thomas had 11 of his 24 points in the fourth quarter and the Celtics won 108-97 to take a 3-2 series lead.
So when Hoiberg was asked about Thomas carrying the ball — again, a thing that only became a thing when Hoiberg tried to make it a thing — Hoiberg literally walked away from the question.

It's rare for a reporter to have a chance to throw something back in a coach's or player's face this quickly and this reporter who asked the question did it marvelously. He waited until the end of the press conference so everyone else could get their quotes, then asked the question. It's impossible to not enjoy this.
Although …
And you won't believe this, but that guy covers the Chicago Bulls. Never miss an opportunity a beat writer has to provide shelter from the coach you are around six months a year in the hopes he'll give you a scoop down the road.
It will be interesting to see if this has any … CARRYOVER … effect in further press conferences.