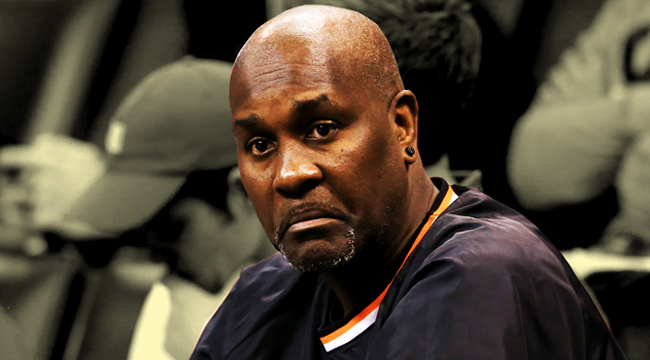 When it comes to the pantheon of greatest point guards in NBA history, a lot of names get tossed around. There's Magic Johnson, Isiah Thomas, and John Stockton, as well as second-tier guys like Oscar Robertson, Jason Kidd, and Steve Nash. But one player who never gets enough credit is nine-time All-Star Gary Payton.
Together with Shawn Kemp, they were one of the most exciting — not to mention successful — duos of the 90s. They were the original Lob City, and on the other side of the court, Payton will go down as one of the best all-time defenders at his position. He was also a notorious trash talker who could irritate opponents like nobody's business.
The Glove has been staying busy in retirement, most recently with the BIG3, where he helmed a 3 Headed Monsters team that made it all the way to the championship game before losing a nail-biter to Trilogy. He's also continuing his crusade to bring the NBA back to Seattle.
Payton was in Los Angeles over the weekend to help the league promote NBA All-Star voting presented by Verizon and for All-Star 2018 fan events, tickets for which are currently on sale at NBATickets.com.
We caught up with him by phone to discuss the new All-Star Game format, what we can expect from season two of the BIG3, how social media has ruined trash talk and much, much more.
You were a nine-time All-Star during your career, so I wanted to start by getting your take on this. Last season's All-Star debacle seemed to be a tipping point. In a league that showcases some of the most competitive people on the planet, it's kind of a paradox that guys don't take it seriously. Why do you think that is?
I think because of so much wear and tear on their bodies. Then they're always with each other all the time, during the summers, or they play these competitive NBA games, [being] competitive all the time. When they get to the middle of the season, they be like, well sh*t, I'm tired. Then the NBA gives them almost a week and a half to get all rested.
To try to make it be more competitive, they're doing the best thing, I think, this year is when they let the captains pick teams. That's going to be a good thing for them because then they are your buddies, who are normally not on the same team.
It seems like fans were excited about the new format but also a little disappointed that the Draft itself won't be more of an event. There seems to be a common complaint that people were hoping to watch that process live to see who gets picked first, who gets picked last, etc.
It's still in the works. You got to understand that. Everything now is going social media. And that's what they want to do. They want to make it big time like that. You got to let the NBA work that out first. You know what I'm saying? A lot of people got to cooperate with that. So it's in the works. It's not going to be this year, but if it gets popular, anything could happen. You know how that goes. Anything happens if it gets popular. That will probably work next year. You got to see how it goes this year first. Everything needs a trial run. You give it a trial run and then see what happens.
Let's talk about the BIG3. By all accounts, it was a wildly-successful inaugural season for the league as a whole, not to mention your team, 3 Headed Monsters, who made it all the way to the championship game. Tell us a little bit about that experience, what you're looking forward to next season, and what the fans can expect going forward.
Season one went well. Didn't nobody really think it was going to jump off like that. I think right at first, when the guys started getting hurt, they weren't in shape. I think this year, we're going to have a different mentality about it. We're going to get everybody in shape before they get there. We're starting early. Everything is going to be in LA. It's going to be one of them things where you got to get in shape first. You got to be in really top shape. We're not going to have a draft. What we're going to look at is guys' body shape. If they don't even look like they're in shape, then we're going to pull them off the floor immediately. You know what I'm saying?
It's going to be great, because we're doing it in different cities this year, bigger cities. They added Boston and Toronto. That's going to be great. They added Oakland, which, for me, that's going to be great. Really, really good. I think the fans are going to be more pumped because they see the product of this league. Then it'd be great if … I think we're going to get some … NBA is going to want to be a part of it, and that's going to be great. You know what I'm saying? You get them a part of it and see what happens. I hope that this stuff builds up to become something like that.
One of the main novelties of the BIG3 is the four-point shot. Since the NBA three-point line was originally brought over from the ABA, do you think the league will ever add a four-point shot?
No, I don't think so. That would take away from the game, I think. No, I think the NBA will pass over that. That is out. The NBA is a game. A real game. The three-on-three, half-court is a little different. You know what I'm saying? It's almost like one really big pickup game. I'm not taking nothing away from the league. The Big3 is a great league. I think they're doing a good job. But for the NBA, I think that's just a little bit too far-fetched.
You told a great story in the Players Tribune last month about talking trash to Michael Jordan, so I wanted to get your take on how trash talk has evolved over the years. Today, so much of it happens on social media, or a guy will wear a hat or t-shirt that has a hidden insult on it or something like that. How do you feel about the way guys beef today?
That ain't trash talk to me. I think that's just them publicizing what they want to do. It's always messaging, this social media stuff. They are trying to send a message. You always want to get your followers up. Okay, whatever. That's not trash talk to me. Trash talk is when you get on the floor and everything comes in the flow. Anything can come out of your mouth when you're being competitive. Me waking up and plotting something out, that's not trash talking. When you got a script to what you're going to do and put it on your page, you wake up and you talk about, "Oh, today, I'm going to talk about this guy." That ain't trash talk to me. That's a setup.
Me getting on the basketball court and going at anybody, at any time, that's trash talking. Me talking to a referee, me talking to a fan. When you're getting on social media, you're making it personal against one person. That's what our society is about right now, social media. That's why I'm glad it wasn't in my era. I hate social media because it's possible for me right now … I'm in a car. I just post where I'm at and I'm like, "I'm going down whatever boulevard right now. I'm in a car, and the license place is this." Who would want to do that? I don't want to do that. I don't want nobody to come roll up on me. I like a private life.
It's a little bit different. There's Instagram. There's tweets. Show everybody what you're doing. Show everybody the inside of your house. It is a little different.
Let's talk about point guards. Is there one particular player today who reminds you of yourself?
The guy I enjoy watching is Westbrook. He goes at people. He's an old school guy. I think he could have played in my era and been really, really good, like he is now. He would have been competitive. I think he's the one that I like watching play, because he does everything. He takes it personal with everybody that he's going to go at. He doesn't care how he gets it done. He gets it done, and he walks away. He leaves everything out on the floor.
I think the guy that you can compare to me in this era is Kawhi Leonard. He does it on both ends of the court. He plays defense, and he plays offense. He plays the way I did. He's going to lock you down on the defense side and take it personal over there, then come on the offensive side and go after the same player. He never backs down. He wants to guard the best player all the time, and that's what he does. He reminds me of myself of being a two-way basketball player.
Speaking of defense, you were the only point guard ever to win Defensive Player of the Year. Is defense something of a lost art for today's scoring point guards? Do you buy the argument that they need to conserve energy for the other side of the court?
That's what they are now, offense. When I was playing, I reserved my energy on the offensive end and played hard on the defensive end. Because if I get steals, I'm going to get easy buckets. So if I get five easy buckets, that's 10 points. I'll still have my same basketball game. That's the problem. It's a scoring league. That's what they want to do. If you're a point guard, you got to average 20, 25 points, or you're not going to keep up with these point guards nowadays. They're going to get 35, 14 assists, the Hardens, the Westbrooks, the Currys, the John Walls. They're going to get you buckets. It is what it is.
When we were playing defense with Seattle, if we got guards killing us, and he's coming up for pick-and-roll, we're entrusting we get the ball out of his hands and force a turnover and get the ball back. They don't do that anymore. Defense is … I'm sorry. They don't go and practice defense. They practice all their offense. That's what they do. How else are they going to score 120 points? That's what they do. It's a PlayStation thing. You know, there's Xbox, PlayStation. Kids want to see these players play just like that. That's why Steph Curry is so popular, because he plays just like the PlayStation. He steps across the half court, he gets a jump shot. He can hit a three from anywhere in the gym. If you put him up on the roof, he's going to make it. If you put him at the opposite end of the court under the basket, he's going to make it. That's what these kids want to see. That's what they want to do. That's just the way the game is.
You've been leading the charge to bring the NBA back in Seattle. Where do things stand on that front right now as far as you've heard?
It's just got approval from the state and the city, so we're going to revamp Key Arena. Then we got NHL already approved. So NHL is going to come in, then that will open up the door for the NBA. With our great commissioner in Adam Silver now, I think he's going to give us the opportunity to do that. When he gives us the opportunity, if it's in 2020, 2022, 2024, whatever. He's going to give Seattle the opportunity to come back and get a team. Seattle didn't deserve to lose their team that way, to just up and leave. They didn't deserve that. So I think they're willing to fund it. When they get a hockey team back there, they'll have almost every sport there: soccer, football, baseball, and hockey. So that's what they need. It will be a great sports city again.