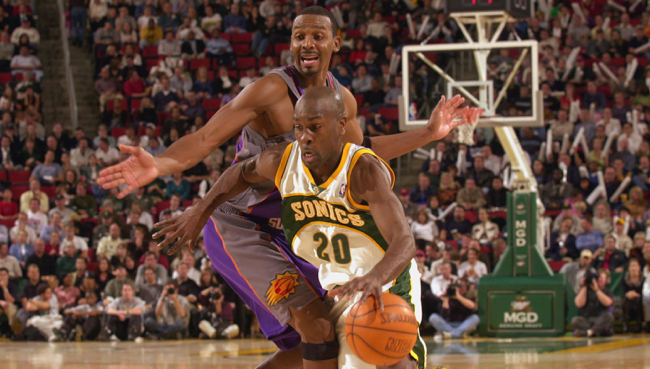 For several years now, there's been an ongoing debate about the current era of the NBA versus the "old school" Association of the 1980s and '90s. If you talk to any player who played during that era, they will tell you that most of today's players couldn't cut it in their day because they aren't tough enough and wouldn't be able to withstand the physical play of yore.
While they sometimes have a point, the reality of the situation is that while the players of today may not be as rough and tumble as players two decades ago, they are, by and large, more skilled and athletic (these rules don't apply to everyone obviously). And while less aggressive players from today's NBA might struggle with the physicality of the game of the 1980s, some from that era wouldn't be able to duplicate the versatility of many of today's NBA players.
All of that is to say that it's tricky to try and compare eras, but that's exactly what Gary Payton with this tweet on Saturday.
The Glove is well known for his ability to talk junk — he's keeping it up even after retirement — and while he may have to cut that part of his game back slightly in the contemporary game, it's not as if that is completely gone from the game. Payton may have earned himself a few suspensions for racking up techs here and there, but it's not likely to be all that different from the various times he was fined by the Sonics over the years.
As for his on-the-court style, Payton certainly would have to eliminate his hand checking if he didn't want to foul out every game, but someone of his skill-set could have made the adjustment. He also may want to tone it back on hard fouls at the rim, as he's more likely to get a flagrant nowadays. But I hardly think protecting a player's safety is worthy of calling the league "soft."
He may have been making the statement in jest, but Payton's sentiment meshes with the opinion of most old-school retired players who believe the league isn't what it used to be. Whether you agree or disagree with that, it's okay to have that debate as long as we acknowledge that great players like Payton would be inducted into the Hall of Fame no matter what year they were born in.