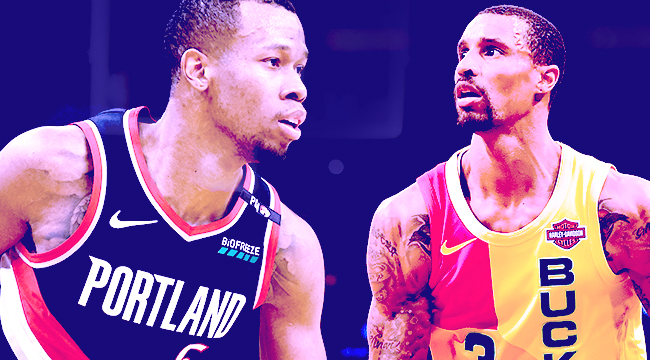 When the Cleveland Cavaliers shipped off Isaiah Thomas, Iman Shumpert, Derrick Rose and Jae Crowder at the trade deadline last season, a last ditch effort to salvage what would be LeBron James' final run to the NBA Finals with the Cavs, two intriguing pieces came back. The first was George Hill, a veteran point guard with arms like a pterodactyl who'd been withering away in rebuilding Sacramento. The second was Rodney Hood, a springy wing player from Utah with the ability to defend multiple positions, create his own shot and hit from deep at an above average clip.
Their additions to a crumbling Cavs roster weren't expected to, say, transform the Cavs into the juggernaut they were before Kyrie Irving demanded a trade. But there was excitement about what Hood, still young, could bring with his ability, and how Hill could stabilize the offense with his ball-handling and high basketball IQ.
None of it came to fruition. Hood was lost without the direction of Quinn Snyder's offensive system in his previous stop in Utah, consistently meandering around the perimeter, unsure how to play off of LeBron's iso-heavy tendencies. After averaging 12.2 points per game on just 42.7 percent shooting from the field in 45 regular season games for the Cavs, Hood was a ghost in the playoffs. He scored 5.4 points a game and shot 16.7 percent from deep. He was a DNP-Coach's Decision in multiple games. He refused to come off the bench in garbage time in a Cavs blowout win over Toronto. He finished the 2018 postseason with a -18.6 net rating. It was bad.
Hill didn't struggle in the playoffs to the extent that Hood did, but he struggled nonetheless. A nagging shoulder injury caused him to miss multiple games and also affected his shooting from deep, where his 3-point percentage dropped from 41 percent during the regular season to 31.4 percent in 19 postseason games. Still, his presence on the court made a difference, and you could see how a healthy Hill could've made a much bigger impact in the 2018 playoffs. He finished the postseason with a positive net rating, and the Cavs were 7 points per 100 possessions worse when Hill sat. For reference, the Cavs were 7.2 points per 100 possessions worse when LeBron came out for a blow.

Hill and Hood became trinkets of a failed attempt at a second championship for LeBron in Cleveland when they unceremoniously jettisoned in trades near the 2018-2019 NBA trade deadline, less than a year after they'd been acquired. Hill was sent to Milwaukee, providing depth behind Eric Bledsoe, while Hood landed in Portland as the Trail Blazers prepared to try and avenge their embarrassing postseason performance from a year ago. The stakes were high, especially for Hood, who was running out of chances to assert himself as a legitimate and useful wing player in the modern NBA.
How fitting, then, that the two Cavalier castoffs have become stars of the 2019 postseason. Hill is playing his best basketball since his days with the Indiana Pacers. Fully healthy, Hill has laid waste to the Boston Celtics in the Bucks second round series against them, posting an absurd +24.2 net rating, including a 93.3 defensive rating as he's helped shut down another former Cavs point guard, Kyrie Irving. His first step off the pick and roll is as quick as its been in years, and he's pushed his 3-point percentage back up to nearly 40 percent. He's been one of the most efficient players in the playoffs. When's the last time you saw Hill explode to the hoop and dunk like this?
Hood's in the midst of his redemption arc, too. His 3-point shooting has settled around 38 percent, and he was spectacular in the fourth overtime of the Trail Blazer's thrilling Game 3 win over the Denver Nuggets in their Western Conference Semifinals matchup. Twice he found himself isolated on the right side of the court against Jamal Murray, and twice he stuck a jumper in his face. Then he hit what would be the game-winning three after C.J. McCollum missed a floater, snagged the offensive rebound and kicked it out to Hood.

Hood's performance led to the former Duke Blue Devil earning a coveted spot at the podium for a postgame presser, where he reflected on his struggles in last year's postseason and what hitting a shot like that meant to him. It was a touching moment.
Playing with LeBron has its obvious benefits, but for certain players, especially those who flourish when they're a part of a flowing offensive system, it can be a difficult adjustment. Hood never figured out how to move off the ball and hunt open space once he arrived in Cleveland, having never played with someone as high-usage as LeBron. Hood's been more aggressive in these playoffs, and shooting better has certainly helped his performance, but Terry Stotts has also made life easier for him by getting him involved in the pick and roll and finding ways to get him switched onto smaller guards that he can easily shoot over.
Hill's health has unlocked his skillset. He's cutting harder off the ball, confidently pulling up from deep when he's given the space and surgically breaking down the Celtics defense in the pick and roll. There's an argument to be made that, outside of Giannis Antetokoumpo and Khris Middleton, Hill has been the Bucks most important player this postseason.
Things didn't work in Cleveland. Hood and Hill became trade assets for a Cavs team looking to restart. Now they're key cogs for two teams on a possible path to meet in the NBA Finals. What a difference a year makes.