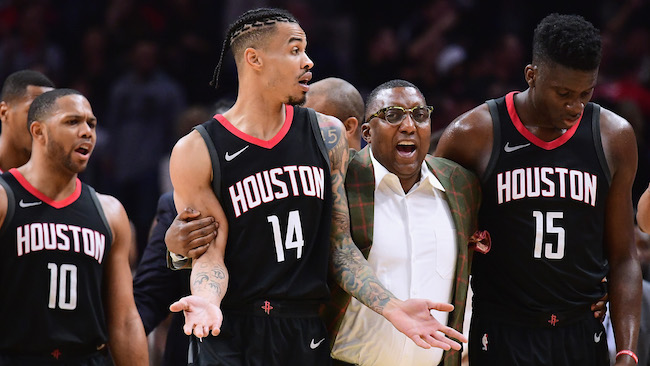 The Clippers and Rockets' kerfuffle last week was one of the strangest stories in the NBA this season. After Blake Griffin and Trevor Ariza were both tossed for jawing at each other late in the fourth quarter, a group of Rockets stormed the Clippers locker room to confront Griffin and Austin Rivers.
Original reports on the incident said Ariza was joined by Gerald Green, Chris Paul and James Harden, and that Rivers' comments in the L.A. locker room, loud enough to be heard outside in the hallway connecting the two locker rooms, ticked off Ariza and Green to the point of going in. The NBA's investigation found Green and Ariza to be the ones most at fault and that the two had "aggressively entered" the Clippers' locker room, with Harden and Paul running in to act as peacemakers.
That investigation included 20 interviews of those on both sides that witnessed the incident and resulted in Green and Ariza both being handed two-game suspensions while the Paul, Harden and everyone on the Clippers moved on without any penalty. The Rockets weren't pleased with the lack of discipline for Rivers and Griffin, but a week after the incident everyone seemed to have moved on. Green, however, still isn't pleased how everything went down.
The Rockets' guard returned from his suspension to speak to the media on Monday and he made it known that he wasn't pleased with the media's role in getting him at two-game suspension.

Green may be right. Had the media not reported the incident it's possible it could've been swept under the rug by both teams and the league, but considering arena security and the LAPD were reportedly called in to break things up it's very possible the league would have investigated the matter anyways.Green, who just got his deal guaranteed through the season, probably wasn't pleased to see two game checks go away, so it's understandable why he'd be looking for someone to blame for that.
The NBA is not exactly fond of players fighting on or off the court so it stands to reason they could've levied the same punishment no matter the level of reporting on the matter in the first place. However, the sensationalized version of the story that came out initially didn't do Green and Ariza any favors. The reality of the situation seemed to be somewhere in between it being a lot of nothing and what was first reported.