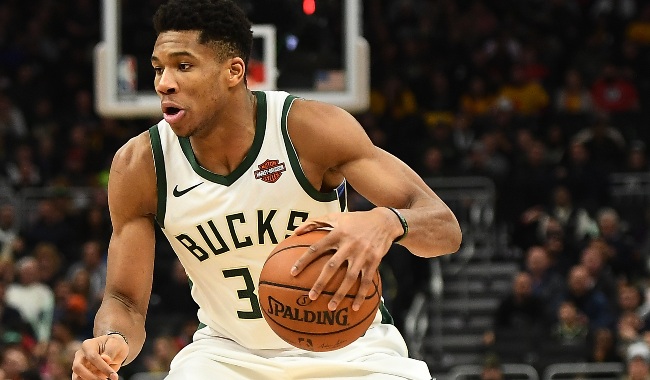 Over the past few years, Giannis Antetokounmpo has become a terrifying force on the basketball court. At 6'11 with a 7-foot wingspan, he handles the ball like a guard and covers so much territory in so little time that opposing defenses can barely keep up. His strength allows him to bulldoze his way into the paint unabated and wreak havoc at the rim.
Last season, Giannis reached still another plateau, leading his team to the best record in the East and a conference finals appearance, in the process running away with his first MVP award. But that eventual loss to the Raptors shone a spotlight on the areas of his game that still require improvement.
Ever the competitor, Giannis is aware of his deficiencies and has never been content to rest on his laurels. He understands he can't allow opposing teams to effectively neutralize him the way Toronto did this spring. That means there's still another plateau for him to hop, and that has entailed putting in some serious work this offseason to get to where he wants to be, which is apparently farther away than we ever would've imagined.
"A lot of people say, 'You are the MVP, you are one of the best players in the league, you are so dominant,'" he continued. "But I think I can get better. I think I am at 60 percent of my potential, as good as I can be. I just want to be better. If I am in the same situation again [in the conference finals], react better, play the game better, play better, execute better."
After the Raptors knocked him and the Bucks out of the playoffs, Giannis said he was grateful to Kawhi Leonard and Marc Gasol for a hard-earned lesson. But they might also have created a monster. The thought of 40 percent more Giannis is difficult to comprehend.
But even if he doesn't quite make that drastic of an improvement, he's looking to build on some of the modest progress he made with his outside shot last season. He still converted just over 25 percent of his attempts from downtown, but he was much less shy about taking threes when they were open, which is half the battle.
Beyond that, he'll have to continue to learn how to adjust his game when teams like the Raptors clamp down on him in pressure-cooker playoff scenarios. If the arc of his progress so far is any indication, he could be in store for yet another giant leap for a player who was already off the charts.
(ESPN)