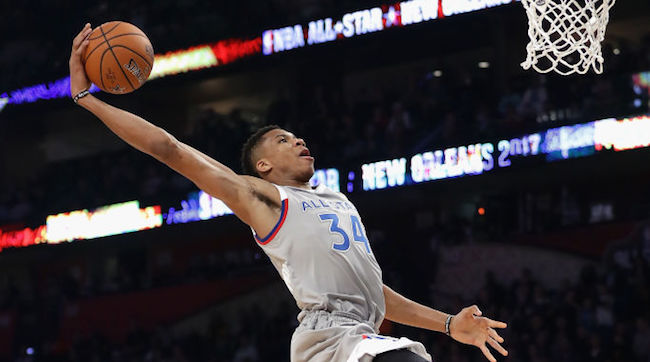 Giannis Antetokounmpo made his All-Star game debut on Sunday night and did so as a starter for the Eastern Conference. The Greek Freak made his presence known early and often with a pair of huge dunks in the first quarter as he seemed eager to prove himself against the best.
The young star is crazy long and got to show off his wild bounce on the All-Star stag. Antetokounmpo's first dunk came after he blitzed through the lane on a free run (as often happens in the All-Star game) and threw it down with authority.

His second dunk came by way of some rare All-Star game defense as he ripped James Harden after pressuring him in the corner, and took the ball to the rim for another thunderous tomahawk jam.
Harden gave him a look like "really, man? A full-court press?" But that's Giannis' style, he's an effort star and makes so many of his great plays through sheer effort to help maximize his crazy athleticism. This incredible picture captures the full essence of Antetokounmpo as he's fully extended and soaring through the air for the dunk.
Antetokoumpo is the first Bucks All-Star in the last 13 years and the first starter since Sidney Moncrief 31 years ago, and he's making up for that long drought between having a Milwaukee presence in the All-Star game in a short amount of time.