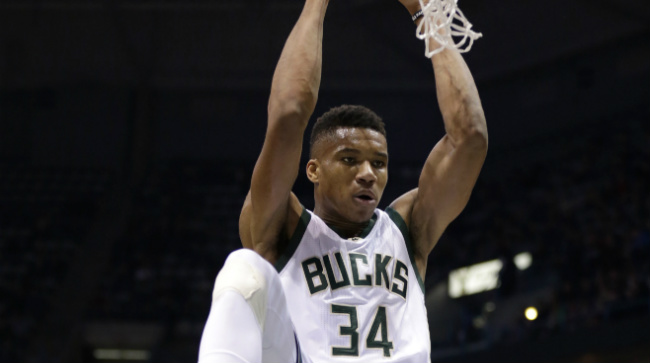 Giannis Antetokounmpo's propensity for wonderful in-game dunks carried over from the All-Star Game. One week after the Greek Freak showed off his ability to sky in the NBA's premier exhibition game, Antetokounmpo spent four quarters flexing on the Phoenix Suns in a 100-96 victory.
His all-around game was on display, as Antetokounmpo scored 28 points on 11-for-13 shooting with eight rebounds, six steals, two blocks, and a steal. The thing that sticks out here is obviously the success Antetokounmpo had from the floor, as he shot 84.6 percent during the game.
This is an easy thing to do when seven of your 11 made field goals come via dunk. Antetokounmpo played above the rim in a big way against Phoenix, as he just would not stop dunking against the worst team in the Western Conference. Here are all seven of his dunks, notice how easy every single one of them looked.

Part of this had to do with Phoenix's interior defense, sure, but it's terrifying that someone as big as Antetokounmpo was able to find some much space within five feet of the rim. Even when he wasn't open upon catching the ball, he was able to move in ways that freed up space – the first two dunks are examples of this.
The scariest thing about Antetokounmpo – aside from his terrifyingly large hands – is that he's only 22 and may keep getting better. If that happens, opposing players should probably just pull a Steph Curry and lay down when Giannis wants to sky.