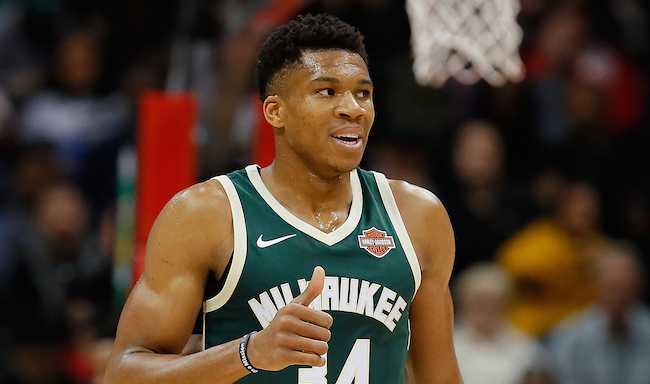 The most coveted free agent on the sneaker market is sticking with Nike. Bucks star Giannis Antetokounmpo, who has emerged as one of the MVP frontrunners early in the season, announced he would be re-signing with Nike on a new deal with a video on his Instagram page.
The video, narrated by Antetokounmpo, notes the importance of family and loyalty to him as the reasons he's sticking with Nike.
It's not a huge surprise that Antetokounmpo would stick with Nike, as he's been fiercely loyal to his Kobe sneakers over the years. Giannis' Bucks teammate Khris Middleton explained that he and other members of the Bucks have had to tell Giannis to change shoes, because he wears them until they fall apart, which is far from the norm in the NBA where players often wear new sneakers every few games. This season began wearing the new midtop Kobe AD.
The details of his new contract are unknown, but considering his status as a budding star in the league, one has to think the baseline for his new deal is Kristaps Porzingis' deal with adidas signed last year, which was the largest ever for a European player. Nike let adidas swoop in and take Porzingis, but they clearly were willing to step up and match on Antetokounmpo and not let another budding star get out from under their logo. One now wonders what's going to happen to that van full of adidas gear that got sent to Giannis in the offseason.