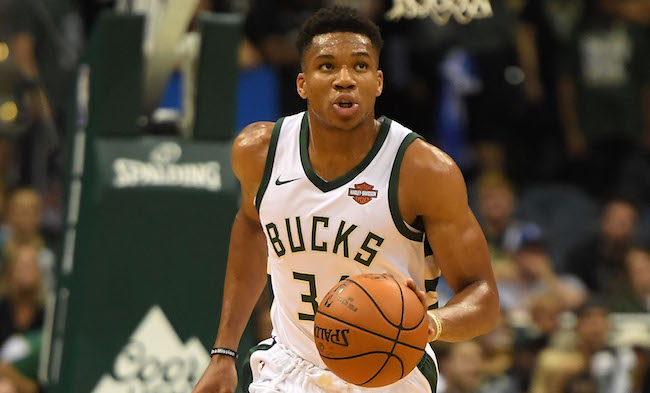 Giannis Antetokounmpo is a free agent no more. The Bucks' star announced on Instagram that he was re-signing with Nike on a new sneaker deal that will keep him with the company that signed him coming out of the 2013 NBA Draft.
The move came as little surprise, as, after his incredible start to this season with MVP caliber play and emergence as one of the league's next megastars made the decision to retain him pretty easy for Nike, who already let adidas swoop in and take Kristaps Porzingis last year. The next step for Antetokounmpo, with his new deal of which the terms are still unknown, is to get a signature sneaker.
That process usually takes close to a year and a half to go from discussions to a completed product ready to hit the market, but it's a process that's going to start soon, according to ESPN's Nick DePaula and Darren Rovell. The two point to an upcoming Bucks trip to Portland as a natural starting point for the star to get to the Nike headquarters and begin discussing what he wants out of a signature sneaker.

As for when a "Giannis 1" sneaker may hit the market, ESPN anticipates it wouldn't be until the start of the 2019 NBA season at the earliest.
A key component of the new Nike deal for Antetokounmpo, sources said, is that it also includes the creation of a signature shoe. The process of designing a signature shoe is typically part of a 14-18 month timeline.

With the Bucks set to play the Portland Trail Blazers later this month on Nov. 30, the brand is looking to begin that process over the coming weeks and again in person at Nike headquarters in Beaverton, Oregon. It is likely that the soonest a "Giannis 1" sneaker would release would be during the fall or holiday seasons of 2019, according to insiders.
It's not surprising that Antetokounmpo will get a signature, as he's on that level of superstar that is deserving of his own sneaker, and it also doesn't take an expert to imagine what that shoe will look like.
Antetokounmpo has been fiercely loyal to Kobe Bryant's line of Nike sneakers over his career, wearing the Kobe IX for years prior to switching to the new Kobe AD midtop this season. One would expect a similar style lowtop sneaker to be produced for Antetokounmpo, with some aesthetic changes to differentiate itself from the Kobe line that is continuing into his retirement.