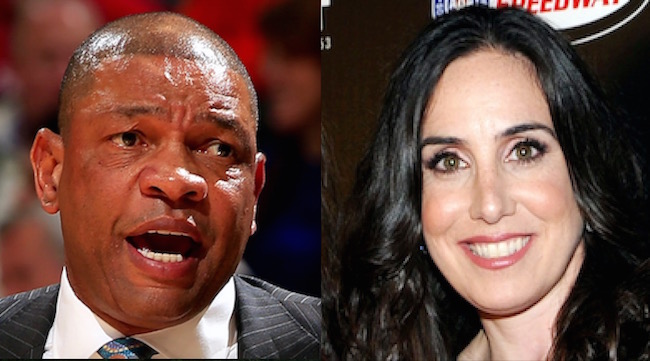 Maybe the rumors were true after all. Just over a week following Bill Simmons' incendiary Twitter rant on widespread dysfunction of the Los Angeles Clippers comes a report that one front office higher-up frequently clashes with coach and president of basketball operations Doc Rivers.
According to TMZ, president of business operations Gillian Zucker – a former NASCAR executive who's been consistently championed as a home run hire by owner Steve Ballmer – has created palpable tension within the organization by wielding power with regard to basketball decision-making.
TMZ Sports spoke with multiple sources within the organization — including players — who tell us the drama all centers around Gillian Zucker, the team's president of business operations.

Long story short … several players and key staffers feel she's not just stepping on Doc Rivers' toes, but she's creating a divide … leaving many wondering who's really calling the shots in Clipperland.

[…]

But we're told Zucker has been increasingly more involved on the basketball side … inserting herself into things like player development and playing time decisions … and it's leaving many people confused, since she's often not on the same page as Doc.
The popular gossip site also reports that one former player left the Clippers in free agency this summer because he was so fed up with the acrimony centering around Rivers and Zucker. When reached for comment by TMZ, Zucker said, "This is the first I've heard of this… I think the lines between [basketball and business] are very clear."
Ballmer has sung the praises of both his franchise's head coach and chief business honcho in the past. The former Microsoft CEO called Rivers "one of the best coaches and executives in the game" upon affording him a $50 million extension last fall, stressing that locking up the 2000 Coach of the Year long-term was a "top priority" of his first days with the team.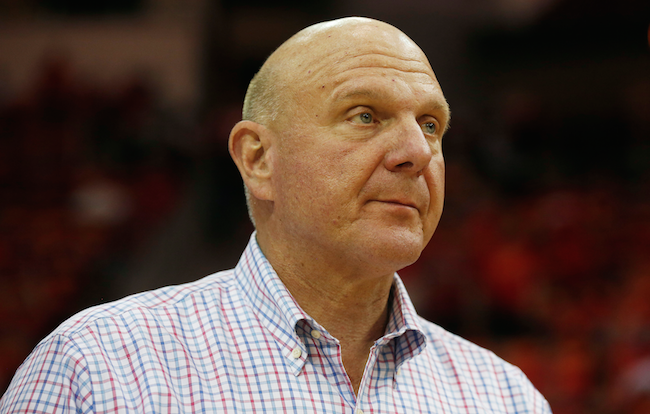 Los Angeles' owner hired Zucker just over two months later. And not only did Ballmer speak with absolute admiration of the 45-year-old immediately after she joined Los Angeles, but Rivers did, too. Courtesy of ESPN's Arash Markazi:
"I like her. I like her a lot," Rivers said of Zucker. "Any lady that's had to deal with NASCAR, especially the way they're fighting now and all that stuff, it's pretty cool. I just like her immediately. We met I think two or three weeks ago and I was really impressed with her. I'm very happy that that's who Steve decided to choose. I think it was a great choice. And I do think it was time and needed for the business side of our organization. We really needed a president in place, and I think it will help everyone."
But that was nearly a year ago, during the honeymoon phase of the arranged marriage between Rivers and Zucker. Could the pair have grown so cross-ways over the 2014-15 season and summer months to follow as to render their relationship completely irreparable? If TMZ's report is accurate, that certainly seems a likely and understandable possibility.
Rivers is hardly beyond reproach as a basketball mind. He's made several poor personnel moves since taking over as the Clippers' personnel decision-maker, and his in-game rotational choices are deemed by many as questionable at best. Either way, though, those relative failings should be of little or no concern to Zucker, someone whose title lies solely on the business side of the organization and has no legitimate hoops background whatsoever.
Power struggles within business are common; the key to easing them is communication from the parties involved and leadership from the top on down. And unless Rivers and Zucker find common ground, or Ballmer successfully and forcefully mediates these reported issues, it seems like disharmony will continue ruling the day in Los Angeles.