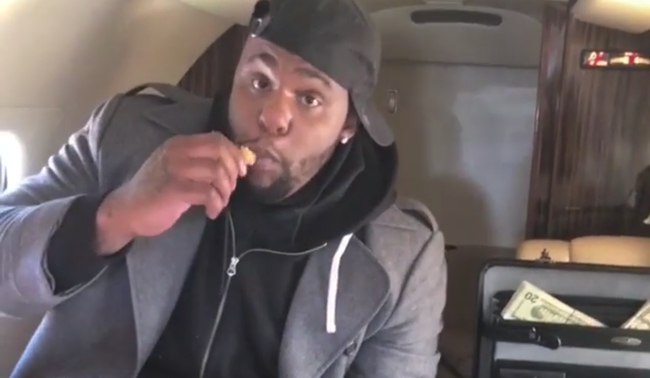 Glen "Big Baby" Davis has found himself in the news this weekend for the wrong reasons after it was reported by ABC 2 in Baltimore the former Celtics big man had been arrested in February for marijuana possession and distribution.
Davis was arrested in a Hampton Inn in Aberdeen with what police said was 126 grams of marijuana, $92,000 in cash and a ledger containing "language consistent with someone involved in the sale and distribution of narcotics." Davis will be in court next month and his lawyer insisted he was innocent and would be cleared of wrongdoing.
With the news of his arrest going public this weekend, Davis decided to post a video message to his fans letting them know that Big Baby is going to be alright. Davis shot a video while on a private jet, scarfing down some Popeyes chicken while sitting next to a briefcase full of cash (with his Celtics championship ring), insisting his stacks of cash were all from the legal enterprise that is getting buckets on the basketball court.

"It's ya boy Big Baby, man. Don't believe all that sh*t on the internet," Davis says. "I will have my day in court. They just mad because a black man got money, man. Just trying to keep a black man down, man. Aye, man, shout out Rolo man. All them people man getting money, man. My sh*t's legal, man. A lot of jump shots. A whole lot of jump shots."
We'll find out in the next month or so if the court believes Davis, but for now we have his public denial and he appears fairly relaxed about the entire situation. Also, I'd be remiss if I didn't highlight that Davis has a very strong Popeyes order with a box of chicken, an entire box of biscuits and a large box of fries.