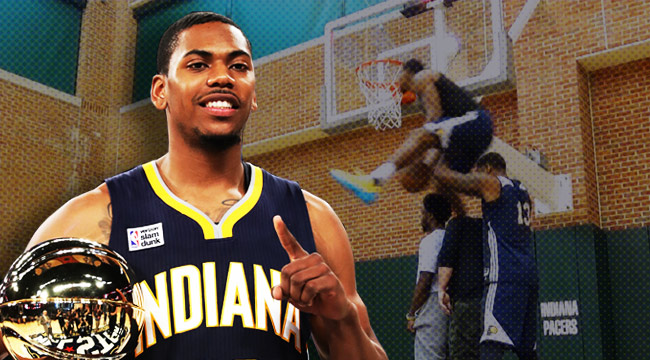 The son of Glenn "Big Dog" Robinson had been overshadowed by his father's success for most of his career. That is, until Saturday night happened. While the Dunk Competition wasn't what many had anticipated, the story of Glenn Robinson III and his dunk contest win was more significant than many could've imagined.
Robinson III was the outright underdog and was not expected to do much in a dunk contest featuring the likes of last year's runner-up (should've been winner) Aaron Gordon, YouTube phenom Derrick Jones Jr., and high-flying big man DeAndre Jordan. At one point, the four man dunk competition had Robinson at 15-1 (via Bovada) to win the contest, one of the biggest sleepers in recent memory.
But if you knew what Robinson and his team had up their sleeve, you'd be as confident as he was, and unsurprised by his shocking win.
"We had about six or seven confident dunks planned," Robinson III told DIME. "I just wanted to put on a show and do something that NBA fans hadn't seen in a dunk contest before. I was really confident going in, couldn't wait to shock the world and show them what I'd been up to."
About a month before the competition, Chuck Millan, founder of Team Flight Brothers, along with his team, were tasked with helping Robinson.
"I met Chuck three years ago when he was helping another one of our clients Terrence Ross," Robinson's agent Austin Brown says. "So when we found out Glenn was in the dunk competition, he was the first person I called. I think he's the best at what he does and for a guy like Glenn who's super athletic but hasn't been in many dunk contests, Chuck was the perfect guy to help."
They would spend 30-45 minutes about two times a week on Robinson's form, dunk routine and getting Robinson acclimated to the art of dunking.
(Chase Skinkis of Team Flight Brothers and Robinson's cousin Jalen Wesson, part of the "stack dunk")
"Glenn has never really been a 'dunk contest' dunker," Millan told DIME. "He's been in like two dunk competitions his entire career, but obviously he's a freak athlete and possesses a 41.5 inch vertical. Being 6'7, he basically had all the tools to be a great dunker, but it was just about putting it all together."
Chuck is the master when it comes to dunks, and he's worked extensively with with Victor Oladipo, Terrence Ross, John Wall, and many others. But his pulse is clearly on every season's dunk contest. He analyzes every portion of a dunker including whether they're a two or one-foot jumper, body type, and their versatility in-flight.
"I knew Glenn was a two-foot dunker that jumps with his right foot forward similar to that of Dominique Wilkins," Millan said. "So I started pairing up dunks that I thought would suit him well without the ball being in his hands. We didn't want any human error involved and didn't really have the time to execute dunks outside of his comfort zone. It would also be easier for him to get acclimated to the new dunks if the ball wasn't moving, so we positioned it in others' hands, holding it in one place."
Beyond that, Robinson was trying to soak in all the information that Millan gave him. They'd exchange phone calls and text messages about execution, form, and order of the dunks he'd prepped. They knew things could be special but if it wasn't for Robinson's attention to detail and incredibly humble attitude, they wouldn't have had everything dialed in.
"Glenn is one of the quickest learners I've ever met," Millan said. "The reason we were able to have so many dunks ready and be as prepared as we were was because of his hard-work, commitment, and comprehension of the information."
With their only props being human-beings, Millan knew they'd have to wow the judges with dunks that had never been accomplished.
"In order to be prepared we needed six dunks," Millan said. "Because you never know if someone will take your dunk or if you'll go to overtime. Most NBA players don't have time to think of these dunks and that's why I am here. It's my life."
The first dunk they'd attempt is where Robinson cleared two people (easily) on top of one-another was one of many they had mastered.
Robinson III posted teasers via twitter about three to four days before the contest giving people a preview of what was to come. But it seemed that people were still sleeping on the former University of Michigan product.
"In the practice before the dunk contest it was pretty evident that we had the best plan," Millan said. "Once we saw what the others were doing, we knew we were going to win. I'm sure the other guys had plans, but once they saw our first dunk plans needed to change."
Obviously, Gordon's orchestration didn't come to fruition how he wanted it to. But it seemed like the only dunker who knew what he was going to do from start to finish was Robinson III. Once his first dunk went in, he took a strangling grip of the dunk contest and never let go.
While his first and last dunks were probably the most memorable in his run-away victory, Robinson's favorite was most likely the third-dunk which featured teammate Paul George, a player he looked up to when he was in high school. The moment must have been surreal for a player who'd been endured it all.
The term 'practice makes perfect' was true in this sentiment. But it couldn't of happened to a better individual. Robinson III had weight on his shoulders that would sink most people. Being the son of a former great and having to live to expectations, one can only imagine the amount of pressure and frustration. But unlike how most of us would act in his shoes, he's known as one of the most genuine and sincere players in the league.
"He's one of the most generous and kind players I've ever met," Millan said about Robinson III. "He deserves all of this and more, it couldn't have happened to a better person."
Robinson is keeping quiet as to whether he'll compete next year as he's still relishing the win.
"It's been an unbelievable experience," Robinson III said. "It's been a dream come true. I grew up wanting to compete in an NBA Dunk Contest. I won't forget winning it and the great support I had around me."
As he's sat in the shadow of his father, this may be the moment he removes himself from that label. Instead of the son of 'Big Dog', he's Glenn Robinson III, NBA Dunk Contest champion in 2017. This should most certainly take some pressure off and add some in a different category.
As for Millan, he's got plans of helping Robinson III for next year's contest.
"Obviously, the next Dunk Contest is 12 months away," Millan said. "But that just means we've got 12 months to plan for 2018's contest. Nothing's for sure, but I'd be surprised if he didn't try to defend his title. And if he does, everyone is in real big trouble."