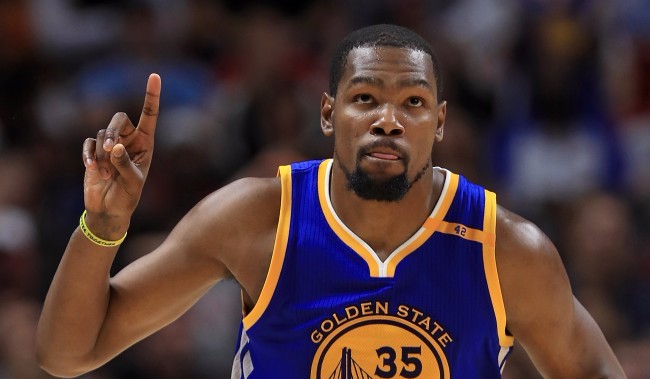 Helping the NBA to extend their reach far past the United States, Kevin Durant traveled to India near the end of July to lead basketball clinics and interact with fans in the country. While there, Durant saw the sights, and he even set a Guinness World Record by leading over 3,000 children in a basketball workout.
Wanting to document his journey in India, Durant recorded a mini-documentary of his travels and work in the country:
But while Durant seems like he had a great time in India, in an interview with The Athletic's Anthony Slater, the Warriors superstar did have some interesting comments about the country.
From Slater:
"Um, it was a unique experience. I went with no expectation, no view on what it's supposed to be like. I usually go to places where I at least have a view in my head. India, I'm thinking I'm going to be around palaces and royalty and gold — basically thought I was going to Dubai. Then when I landed there, I saw the culture and how they live and it was rough. It's a country that's 20 years behind in terms of knowledge and experience. You see cows in the street, monkeys running around everywhere, hundreds of people on the side of the road, a million cars and no traffic violations. Just a bunch of underprivileged people there and they want to learn how to play basketball. That s— was really, really dope to me."
Overall, Durant definitely sounds complimentary of the people of India yet his culture shock does seems slightly naive. But that is likely just a product of him growing up poor in the United States and not every really experiencing any other cultures besides for the one in America. However, his "20 years behind in terms of knowledge and experience" comment really rubbed people the wrong way as many Indian blogs and newspaper sites used that line for headline fodder. Because of this, Durant took to Twitter on Friday to apologize for his comments.
"Sorry that my comments about India were taken out of context," Durant wrote. "I'm grateful for the time I've got to spend there and I'm really pissed about how my comments came off, that's my fault, should've worded that better. I spoke about the difference between my imagination and reality there in Delhi and about where the game is compared to the rest of the world. No offense from this side, I'm coming back out there for more camps and cool [expletive]. Sorry…"
As far as apologizes go, this one definitely sounds quite sincere. Plus, Durant makes a point to say that he wants to go back to India, so perhaps the next time he travels to the country, this will just be a thing of the past.