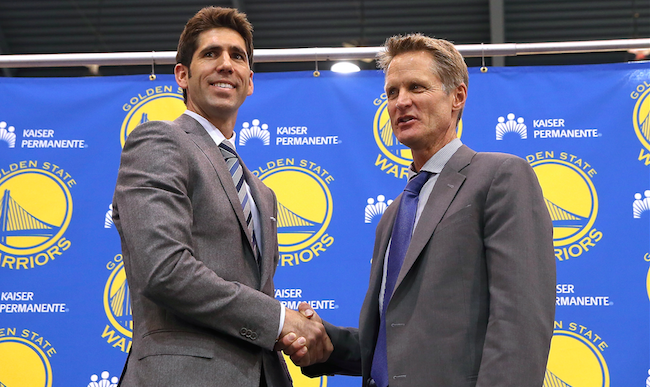 Championships are won in single seasons, but they're built over multiple years. Rare is the title-winner that hoists a Larry O'Brien Trophy mere months removed from its key parts coming together – the 2008 Boston Celtics, basically, are the exception instead of the rule. And it's that reality, presumably, which served as justification for peers of Golden State Warriors GM Bob Myers voting him Executive of the Year.
The Cleveland Cavaliers' David Griffin and Atlanta Hawks' Mike Budenholzer finished second and third place in the balloting, respectively. Here's the Associated Press with further details on the voting:
Golden State Warriors general manager Bob Myers won the NBA's executive of the year award Friday after assembling a roster that rolled to a franchise-record 67 wins and earned the league's top playoff seed.

Myers received 13 first-place votes and 82 total points from a panel of fellow executives. Cleveland's David Griffin was second with eight first-place votes and 69 points. And Atlanta Hawks coach Mike Budenholzer, who has overseen basketball operations since general manager Danny Ferry's racially charged comments, finished third with four first-place votes and 36 points.
Griffin, in his first full year as Cleveland's full-time GM, was considered a shoo-in for the award ever since LeBron James shocked the basketball world by electing to sign with the Cavaliers last summer. The team's extremely impactful moves in the interim – trading Andrew Wiggins and Anthony Bennett for Kevin Love, acquiring Timofey Mozgov, J.R. Smith, and Iman Shumpert for bit players and draft considerations in January – seemed to further cement Griffin as favorite for Executive of the Year.
But this is an award voted on by fellow front office members, and it's hard not to imagine many of them being rankled by the circumstances James' second decision. Did Griffin's influence really have an impact on The King's choice to return? Or did the franchise's geography and fortuitous bouncing of lottery balls have more to do with it? The answer is obvious.
Which not only makes Myers an understandable recipient, but a deserving one, too.
It's hard to remember after he broke the record for wins by a rookie coach in 2014-2015, but Steve Kerr was hardly a sure-thing when Golden State hired him from the broadcasting booth last summer. It took gumption for Meyers to fire Mark Jackson despite the latter's rocky relationship with organizational higher-ups, and even more to outbid Phil Jackson and the New York Knicks for a guy who'd yet to roam the sideline at any level of basketball.
The Warriors' success isn't all about replacing Jackson with Kerr, though. Golden State boasts perhaps the most talent-laden roster in basketball, a possibility for which Myers deserves immense credit – and speaks to the necessary big-picture view of a GM's job performance.
The team's utterly dominant 67-15 campaign is the culmination of a three-year project that began with trading fan favorite Monta Ellis for a banged-up Andrew Bogut; continued by extending an injury-prone Steph Curry for pennies on the dollar; was furthered by offseason additions of versatile performers like Andre Iguodala and Shaun Livingston; and will no doubt culminate with a mammoth new contract for former second-round pick Draymond Green come July.
No one expected the Warriors to be quite so good this season, just like few saw Kerr and Green becoming runners-up for two major awards and Curry developing into a likely MVP. While Myers certainly isn't the sole reason for Golden State's historic success, he's still the one who pulled countless strings for several years in anticipation of it – and an extremely worthy Executive of the Year honoree as a result.
[ESPN]