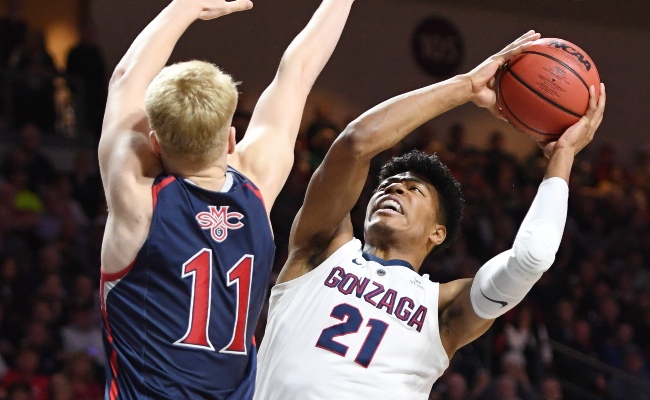 On the heels of a 26-point drubbing of Pepperdine on Monday night in Las Vegas, the Gonzaga Bulldogs appeared to be in a comfortable position in the West Coast Conference Tournament. After all, Mark Few's team was spotless in conference play this season, finishing 16-0 in the regular season. The Bulldogs were riding a 21-game overall winning streak as a match-up with St. Mary's in the WCC title game arrived. Forty minutes later, Gonzaga suffered its first and only loss to a conference foe in decisive fashion by a final score of 60-47.
Though St. Mary's led for the entire second half, the early going actually belonged to the Zags, who opened the game on a 9-2 run. From there, however, the Gaels immediately stabilized things, playing at a glacial pace and controlling the tempo throughout the contest. In fact, Gonzaga scored only 24 points in the first half, setting a new season-low. It was the first time during the season that the team trailed at the break against a conference opponent.
Following halftime, the Bulldogs never led, as St. Mary's withstood a few haymakers with rallies of their own to keep the favorites at arm's length. With 9:17 remaining, Gonzaga climbed within one but, from there, St. Mary's finished the night on an 18-6 run and sent the Bulldogs home without the WCC Tournament title for the first time since 2012.

In the grand scheme, Gonzaga's overall profile is quite impressive. This unsightly loss won't do any favors for the Bulldogs in the eyes of skeptics that will always exist for a team from a mid-major conference, and it's possible this costs them a 1-seed come Tournament time, but Gonzaga owns a neutral-court victory over a full-strength Duke team that should quiet some of the chatter. Beyond that, the team's other two losses this season came against Tennessee (on a neutral floor) and North Carolina (on the road), with off-the-charts efficiency numbers buoying Gonzaga's overall resume.
Their perfect conference run came to a crashing halt on Tuesday, when St. Mary's executed a near-perfect game plan to overcome a stark talent advantage. As a result, the Gaels will be taking part in the NCAA Tournament and, given that they were not expected to earn an at-large bid, another team will lose its spot in the Big Dance. Still, Gonzaga is on track to be a big-time force on the college game's biggest stage and one loss (against a chief rival) shouldn't do too much to dissuade anyone from that belief.