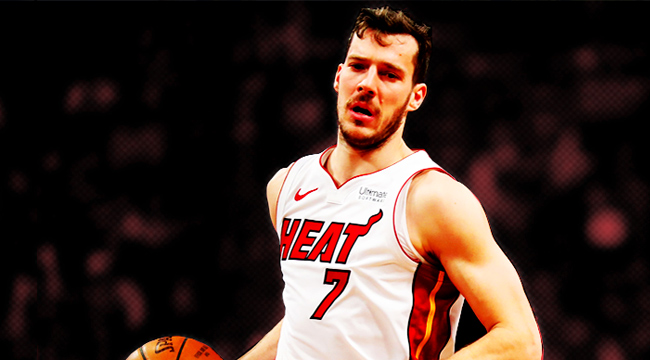 Goran Dragic has logged a whole lot of miles during his basketball playing career. Dragic played for three clubs in his home country of Slovenia, three NBA teams, and a pair of organizations in Spain dating back to when he first became a professional in 2003. As a player, there are few in the league who can hold a candle to the Miami Heat guard when it comes to gaining experience all over the world.
So when it comes to what makes the culture in Miami so unique in the world of hoops, there aren't many people better to ask that Dragic.
We did just that when we sat down with the first-time All-Star during a meet-up with fans through the NBA Store and Fanatics in New York City. He also discussed the team's revered City Edition uniforms from Nike, what it was like getting Dwyane Wade back in South Beach, and making his first All-Star team this far along in his NBA career.
We hear so much about the Miami Heat's culture. You've played all over the place in your career, how is it unique in Miami?
It's really unique. They always want to pressure you a little bit to make you a better player and they challenge you a lot, that's really unique. We have body fat every five, six days, you need to be in great shape. Basically, no days off. You're always in the gym, always trying to improve your game, and I like that because if you're a basketball player, you wanna be the best version of yourself and they're always there for you 24/7. I feel like this is the right organization for me and for a lot of other players.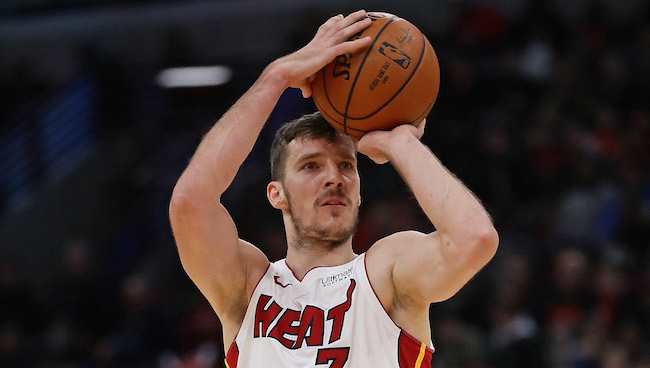 What's something that may surprise people about playing for Miami?
How the club is organized. Everything is A-level, they take care of the players really nice, they're loyal. When you commit to their style, practicing and everything, you can see the results. This is my eighth season in the NBA, and when you're already eight seasons in the NBA, it's kind of tough to get better. But like I said before, they give you the route and you just follow that path. I feel that I really was getting better the last few years.
Pat Reilly famously values mental toughness, Erik Spoelstra seems like he definitely values it. When you guys are in a fight for the postseason like you were this year, how does having that mental edge give you a leg up on other teams?
That's great to have, especially when you're playing on the road. A lot of athletes are under the pressure, but you feel mentally stable, strong. Then even when some things aren't going your way, if you stay with the game, in the end you can win those games. A lot of games it's ups and downs, you're gonna get your chance to win those games. For example, if I take last season, we were 11-30. A lot of players and teams would already quit and we didn't, we fought back. This resilience is a major key for success, especially this season because we always try to get better.
You've had such a long career, what's it like to get the call that you're an All-Star for the first time?
It means a lot, I was really happy. This is a thing that you know you're doing right, you're on the right path, and I put a lot of hard work in. This is something I'm always gonna remember in my career, in my life. That was on my bucket list, I wanted to do, and finally this year, I made it.
How did everyone respond when word dropped that Dwyane Wade was coming back and what was it like in that first game, because it looked electric.
We were really happy. It's a lot of guys that played with D-Wade before in Miami and we feel like that was the right move. He was there for what, 13, 14 years, won three championships. We were really happy, I was happy, and you could see the reaction from the fans. Not only the first game, it feels like even now, when he comes in, the arena is cheering his name. We kind of feed from that energy.


I have to ask about the Miami VICE unis, what was your reaction when you first saw them? Everyone seemed to love them.
I love those jerseys. They're something special, the colors, you don't see those colors a lot and that's why I love it, because it's something different. But at the same time, it represents Miami Vice back in the day, it's really an honor to play in those jerseys.
You decided to get into it a little more than most by rocking a mustache. What was behind that?
We're just joking around in the locker room. If you're gonna have those jerseys, we need to do something special. Me, Justise Winslow, and some trainers we said we're gonna have mustaches. It didn't look good [laughs], but end of the day, why not?
We always see hockey teams have playoff beards, will you try to have the Heat rock playoff mustaches this year?
I don't know, that's a tough thing because we have a lot of guys who are clean shaven. We'll see. Anything is possible.
You seem like a loose, funny dude. Who keeps things light in Miami's locker room?
It's a lot of guys, especially now, there's a lot of guys. We have a good group of guys, funny guys. If I have to name a few, James Johnson, he's really funny. Udonis Haslem, our captain, and Josh Richardson.