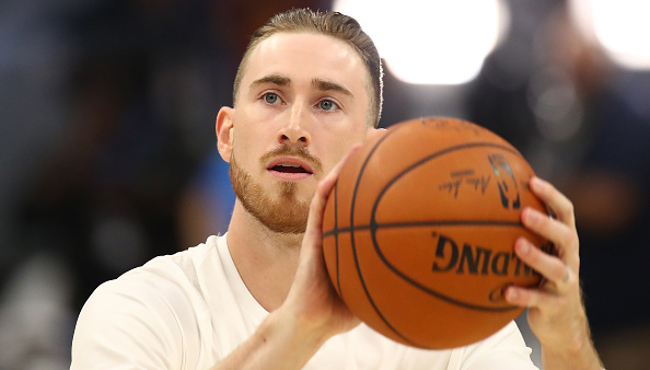 It's been just over four months since Gordon Hayward went down with a gruesome ankle injury on opening night, which by even the most conservative estimates appeared it would cause him to miss the entire 2017-2018 season.
The rehabilitation process has reportedly been going smoothly, and Hayward has, on multiple occasions, posted videos of himself on social media getting up shots at the gym to show his progression. Some of those, however, have given fans around Boston a false sense of hope that Hayward might return to action as the Celtics anticipate making a real run at the Eastern Conference crown this spring.
Brad Stevens has consistently and vehemently shot down that notion, with no small amount of exasperation in his voice this most recent time around. But Hayward himself isn't going to make life any easier on his head coach with his most recent comments on the matter, during which he admits he still has a glimmer of hope that he might return before the season's over.
"My thoughts are that I take it day by day. And I said that from the very beginning, that's what I would do, not putting a timetable on it," Hayward said Friday while unveiling a new gym for students at the Timilty Middle School in Roxbury. "The recovery is going well. I'm progressing well. I was in the facility this morning, will be in the facility tomorrow. And that's kinda my goal — just really focusing day by day."

***

"The hope is still there," Hayward said. "It's something where I'm really honestly not even thinking about it. I know we're getting toward the end of the year. It's something that I'm still working toward, but if it doesn't happen, it doesn't happen."
The Celtics have played well in his absence, holding the top spot in the East for much of the season until the Raptors' recent tear. They'll likely finish with one of the top two seeds, given their current seven-game advantage on the No. 3 Cavs.
Reintroducing Hayward to the lineup at this point would present all sorts of challenges for the Celtics, but you can hardly blame Hayward for wanting to be optimistic about his recovery. Hopefully, the powers that be will effectively dissuade him from trying to return too early and jeopardizing the rest of his promising career because of it.
(ESPN)