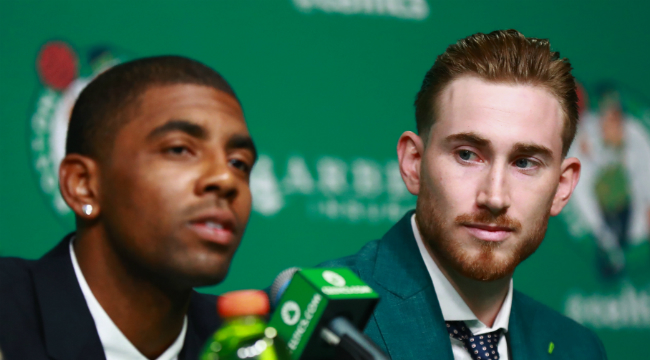 After years and years of stockpiling draft assets and valuable young players, Danny Ainge finally made his big moves this summer when he managed to convince Gordon Hayward to sign with the Celtics in free agency. Then, Ainge completed a somewhat controversial blockbuster trade that would get Kyrie Irving to Boston.
If you polled Celtics fans after the Irving trade was announced, you'd find a pretty fractured fanbase because of how beloved Isaiah Thomas was in Boston despite having only played for the team for just over two seasons. Isaiah Thomas has that effect on people. One such person was the team's marquee free agent signing.
Hayward released a new blog post this afternoon detailing his decision to sign with the Celtics, and what he hopes to accomplish this season, among other things. Hayward would go on to detail exactly what Thomas did for him during the recruitment process.
He didn't just help recruit me to Boston—he was a big piece of that recruitment. He had talked a lot about city and how it was different to be a Celtic. He talked about the intensity of playing in the Eastern Conference Finals, playing at the Garden in the playoffs, and how much fun it was, and how much fun he had playing in Boston.

All of that ultimately helped win me over. And by the time of the trade, I had already started to build a little bit of a relationship with him.

Hayward shared a similar sentiment during his introductory press conference with the Celtics, albeit with less detail, but you could tell he was disappointed that he wouldn't be playing wit Thomas. Hayward stated that isn't a knock against Irving, it's just that Thomas is an exceptionally likable player and person. Hayward made a life-changing decision to join the Celtics assuming Thomas would be part of his future. As Hayward states, the NBA is a business, but on a human level it's easy to sympathize with him here.
On the flip side, Thomas' involvement in Hayward's recruitment shows you just how blindsided he must of been when the Irving trade rumors started. Here's a guy who stayed committed to the franchises playoff run despite the tragic death of his sister, and helped bring in one of the biggest free agents in the organizations history over the span of a few months, only to get shipped off to Cleveland once a better option presented itself.
The NBA is a business. If Gordon Hayward and Isaiah Thomas didn't know that before, they know it now.