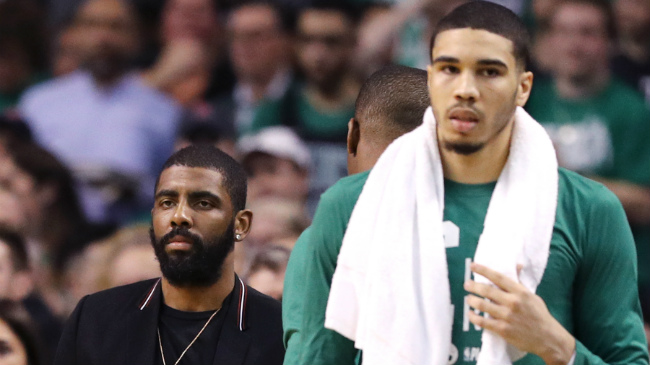 The hype train surrounding second-year Celtics forward Jayson Tatum is going full steam ahead. Tatum was a solid performer for Boston during the regular season, but after Kyrie Irving was sidelined for the year due to knee surgery, the rookie forward blossom, showing off a skill set and the ability to be a potentially devastating scorer for the next 15+ years.
Sure, Ben Simmons won Rookie of the Year, and Donovan Mitchell was outstanding, but most of the hype for a sophomore heading into this season centers around Tatum. The last example of this came via Grant Hill, who heaped praise on his fellow former Duke Blue Devil prior to his induction into the Basketball Hall of Fame on Friday night.
Hill spoke to the press on Thursday and was asked by Tom Westerholm of MassLive about what the future holds for the 20-year-old forward. When prompted about whether Tatum can one day get enshrined next to Hill some day, the seven-time All-Star said it's not out of the realm of possibility.

"I think he's on his way," Hill said. "… He's in a great situation, which is really good. In some ways you could say it's a blessing and a curse. Because (the Celtics) are so talented, he doesn't have to do as much, which is great for a young player, and they have a chance to win a championship, and have a lot of runway for the next five, six, eight years. But also it doesn't really allow us to see the full package. I think we did see that last year when injuries hit that team, and now it was like they needed him to show and prove, and he did. And he was just a rookie. 19 years old. I think time. Time is what he needs, and I can't wait to watch and see what he ultimately becomes. It's scary."
While putting the expectations of maybe making the Hall of Fame some day is a lot for most players, Tatum seems as well-equipped as anyone to handle it. He's a laid-back dude who is able to back up the praise about his game with what he does on the floor, and as Hill mentions, he's only going to get better.
Time will tell if he indeed has Hall of Fame potential, or if he's just going to be a very, very good basketball player for a long time. At the very least, Tatum knows he has a big fan in a legend like Hill.
(Via MassLive)