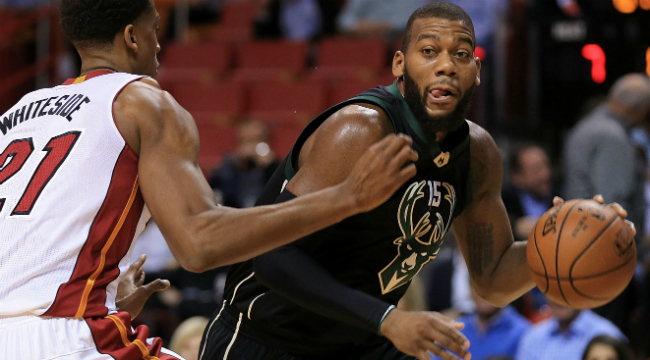 When the Milwaukee Bucks signed Greg Monroe in free agency, it was a big deal. Other teams in more marquee markets wanted Monroe and were willing to pay, but the fact that the big man chose Milwaukee was indicative of a sea change in player movement. Unfortunately, the on-court pairing hasn't panned out remotely, as Monroe is stuck on the bench heading into the season and has been the subject of trade rumors for months now.
The most recent development in Monroe's troubled saga with the team comes with a new, specific trade rumor courtesy of Gery Woelfel, who says he heard "whispers" about a deal that would send Monroe to the Charlotte Hornets in exchange for Jeremy Lamb and Spencer Hawes. Lamb, whose contract with the Hornets was a head-scratcher when he signed it, would ostensibly be the short-term replacement for injured Bucks wing Khris Middleton, while Hawes would fill Monroe's bench spot.
The deal makes a certain sort of sense, considering how desperate the Bucks are for some outside shooting. Neither Lamb nor Hawes are great from the outside, and neither of them are all that good defensively (Hawes is actually quite bad), but both of them fit what the Bucks are trying to do better than the ground-bound plodder Monroe. Then again, one man's unconfirmed whispers don't exactly mean anything — just enough to give Bucks fans hope that the roster can be turned around.
(Via Woelfel's Press Box)