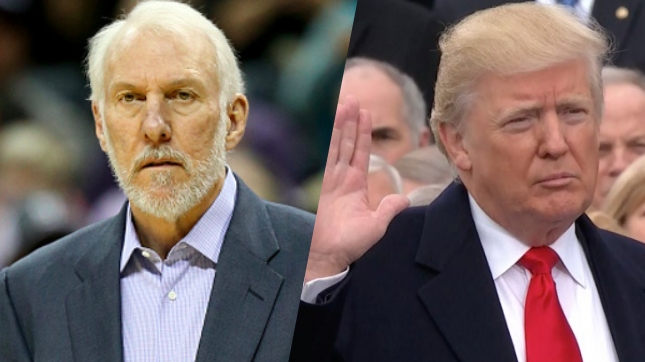 When Donald Trump was elected as President of the United States, many people in the sports world reacted harshly. Perhaps chief among them, though, was San Antonio Spurs head coach Gregg Popovich. Popovich unleashed a tirade in the aftermath that included the fact that he was "sick to (his) stomach" and, as of Saturday evening, it appears that his feelings, if anything, have intensified.
Popovich addressed the assembled media before his team's marquee match-up against the Cleveland Cavaliers and he did not hold back in the slightest. The full text can be seen above, but there were many highlights. The well-respected head coach said that the "message was obvious" when prompted about marches across the country on Saturday. "Our president comes in with the lowest (approval) rating of anybody who ever came into the office," Popovich said, "And there's a majority of people out there, since Hillary won the popular vote, that don't buy his act."
From there, the 67-year-old launched into a section about Trump's claims about things like 9/11 and President Barack Obama's birth certificate, stating plainly that "It's gotten to the point where you can't believe anything that comes out of his mouth." In short, Popovich pulled no punches in one of the most direct and pointed examples of political commentary by a sports figure in recent memory.
It will be interesting to see what, if anything, arrives as fall-out from the comments, especially in lights of the fact that Spurs owner Peter Holt reportedly was a donor to the Trump campaign.
Gregg Popovich is well known for his frankness, for better or worse, and these comments will be widely praised on one side while likely being derided on the other. Such is life in the political arena, but Popovich is always going to share his thoughts and that brings him a great deal of credibility and respect.