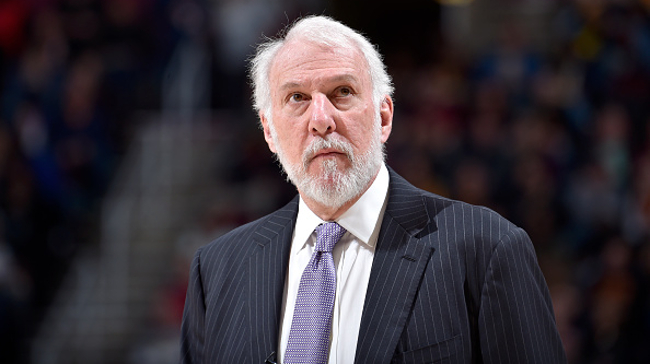 During his Hall of Fame career, Phil Jackson was notorious for his unconventional coaching methods. He loved to make his players do yoga and meditation and read esoteric books on philosophy and self-actualization, and he rarely hesitated to leverage the media to send not-so-subtle messages to his team when he felt they were underperforming.
He was also a big fan of forcing his players to fight through rough stretches during games instead of calling timeouts to regroup. Gregg Popovich is in many ways the antithesis of Jackson and his enigmatic tactics, but none more so than in his strategy toward timeouts.
Not only is Pop prone to call a quick timeout soon after tipoff if his players aren't executing their game plan effectively, he's approaching record-breaking proportions in that department.
Via Chris Herring of FiveThirtyEight.com:
Popovich, the longest-tenured coach in American professional sports, has never been shy about burning an early timeout to get his point across. In fact, the Spurs have called 50 percent more timeouts during the first two minutes of games than the next closest team over the past 10 regular seasons, according to analysts Vincent Johnson and Ken Woolums of ESPN Stats & Info. Popovich has called an NBA-high five timeouts within the first two minutes of a game this season — an eye-popping number given that more than a third of the teams in the league haven't used even one such timeout — and is currently on pace to call more than he ever has in a single season.
Herring goes on to point out that the Spurs' struggles without Kawhi Leonard — who has been battling an injury all season and still has no set return date — could be at the heart of this trend.
San Antonio currently holds the No. 7 seed in the Western Conference, but it has recently fallen as far as 10th as the multi-team scramble to secure playoff positioning has caused a chaotic shuffling in the standings. It now has a two-game lead on ninth-place Denver.
Still, nothing is set in stone, and this could potentially be the first season in 20 years that the Spurs don't make the playoffs, while also breaking their streak of winning 50 games or more. Some extra timeouts in the early going are certainly a reflection of that urgency as San Antonio desperately tries to finish out the season and find out what awaits them.
(Via FiveThirtyEight.com)