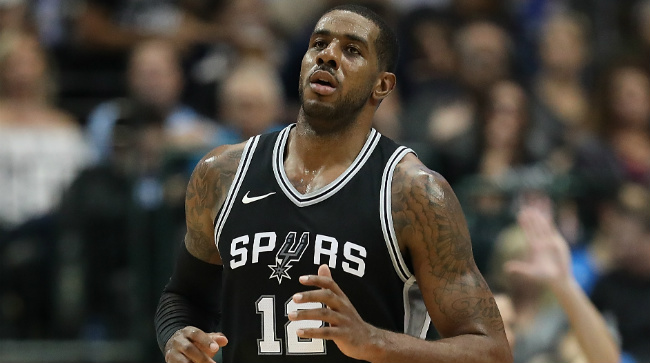 It's not a secret that LaMarcus Aldridge didn't have the best experience of his career with the San Antonio Spurs. While he's on pace to have his best year since joining the Spurs in the summer of 2015, Aldridge and head coach Gregg Popovich have been open about the issues the big man had during his first two years in San Antonio.
Aldridge was unhappy with the situation because he'd sometimes feel like an "afterthought" within the team's offense, and Popovich said that he was caught off guard when these concerns were voiced by his frontcourt starter over the offseason.
As it turns out, things were even worse than originally thought. Prior to the start of San Antonio's game against Los Angeles on Thursday night, Popovich revealed that Aldridge actually asked for a trade. This marked the first time Popovich ever had to deal with that as the Spurs' head coach, and after he thought about it, Popovich believed he was at fault.

Popovich also elaborated on what his solution was to making sure Aldridge was happy: The veteran just needed to be left alone.
There are some who will make the argument that Popovich is the best coach ever, and it's moments like this that show what makes him so special. He's been a head coach 1996, but when a player said they wanted a trade for the first time during his tenure, Popovich was willing to look at himself and what he was doing wrong in the hopes of finding a solution. Seeing as how Aldridge has played this year and that the Spurs are in third in the Western Conference, it's worked out pretty well.
Have you checked out the DIME podcast? Subscribe on iTunes or Google.