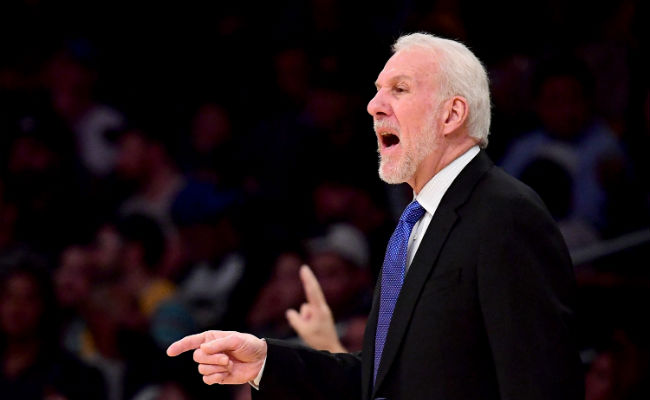 Nikola Jokic is having a strong season for the Denver Nuggets, who hope to rise up high enough in the standings that they can avoid powerhouses like the Golden State Warriors and Houston Rockets in the first round of the postseason.
At 33-26 and in sixth in the Western Conference, Denver is in a solid spot, but the congestion behind the two elite squads out west means it has some work to do. Nuggets head coach Michael Malone thinks his team deserves more respect, though, especially the player that's leading the way.
Jokic had another triple-double on Friday night, going for 28 points, 11 boards and 11 assists in a 122-119 win over the San Antonio Spurs. Speaking with the media afterward, Malone stressed that he thinks Jokic is an MVP candidate and that his team, and his star, don't get enough credit.
"He's not in the MVP conversation but when you look at his numbers he should be an All-Star, he should be in the MVP conversation," Malone said. "He is one of the best all-around players in the game. Not young players. Not big guys. Not small guys: he's one of the best players in the NBA right now."
Malone said Jokic and his team will earn respect, but he's not feeling that way right now.
"He's proving it against the best teams and the best players every single night," Malone said. "So at some point he, at some point our team will get the respect they deserve because right now we're not getting it."
But right as that happened, Spurs coach Gregg Popovich made a cameo. He decided to chime in behind the assembled media and provide some lighthearted commentary on what Malone just said.
"Bulls*it," Pop said, drawing laughter from both Malone and the media.
Jokic is averaging 17.2 points, 10.6 rebounds and 7.0 assists per game, which certainly speaks to how well-rounded his is on the court. But Popovich, even just jokingly, did imply that Malone might be getting a bit ahead of himself. Pop has his own problems these days — San Antonio has lost four games in a row and is 3-7 in its last 10 — but this did make for a pretty great moment.