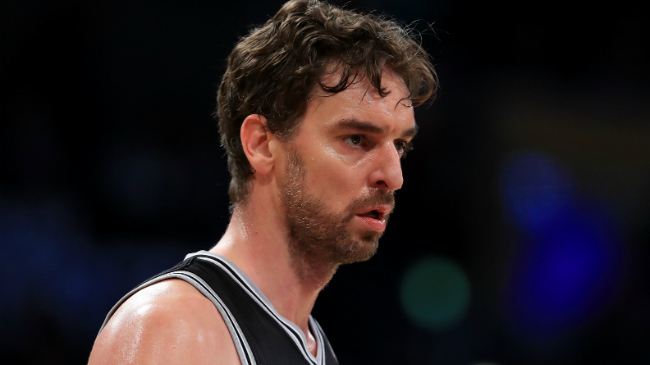 The San Antonio Spurs moved to 6-4 on the season on Sunday night with a 112-95 win over the Phoenix Suns. Seven players registered double-digit scoring, with LaMarcus Aldridge's 21 points leading the way. It was a solid win for the Spurs, as they extended their incredible streak of days with a winning record since 1997.
But seeing as how a mass shooting occurred at a church about 45 minutes away from San Antonio, the fact that the Spurs won a basketball game seems miniscule in the grand scheme of things. In one of the deadliest mass shootings in American history, at least 27 people were shot and killed at First Baptist Church in Sutherland Springs, Texas on Sunday morning.
Both Gregg Popovich and Pau Gasol spoke after the game, and spent some time discussing the events in Sutherland Springs. Popovich gave a brief statement about how he did not think it was appropriate to comment on the game because of what happened earlier in the day.

Gasol was more vocal in his dismay after the shooting, as he railed against the frequency with which shootings happen in the United States. He called the current situation "out of control" and "devastating," according to the San Antonio Express-News, before remarking on how scary it is that something like this can happen anywhere.
"I think anyone and everyone has to be concerned about your own well-being," Gasol said. "Any person in this country has to be concerned. Things like this happen. Going to a concert, taking your kids to school, going to church. You name it. What can you do that you're safe? I don't know. Is a basketball game safe? I hope."

Additionally, Gasol spoke out about the frequency of gun violence in the United States and called for it to be addressed with the hope that a solution can be reached to save lives.
"It's too repetitive," Gasol said. "It's not something every 20 years. It seems like it happens once every week or two weeks. At what point do we say enough? I don't know. Again, I know it's a delicate subject but I hate for innocent people to get killed and for families to pay that price and carry that burden for the rest of their life. It's sad. It's really sad. It needs to be addressed. I hope that it is. I hope we see change and progress to prevent this from happening so often."
(Via San Antonio Express-News)