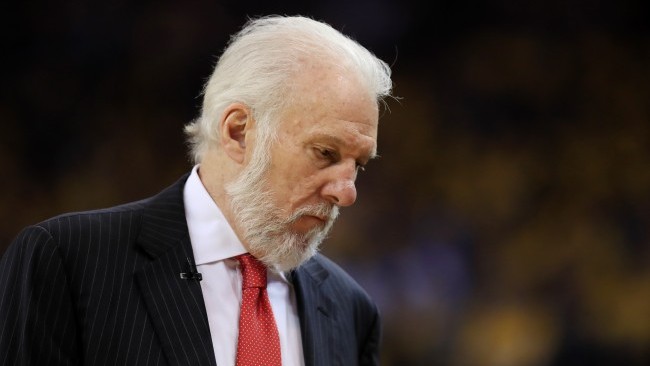 The San Antonio Spurs announced that Erin Popovich, the wife of head coach Gregg Popovich, died on Wednesday. Erin and Gregg were married for four decades and had two children and two grandchildren.
Spurs general manager R.C. Buford released a statement following her passing.
"We mourn the loss of Erin," Buford's statement read. "She was a strong, wonderful, kind, intelligent woman who provided love, support, and humor to us all."
The tragic news broke during Game 2 of Pacers-Cavs on TNT, and as the Warriors were wrapping up practice in Oakland, where Steve Kerr understandably was shaken and chose not to address the news publicly at the time having learned of it during his media availability.
On TNT, Ernie Johnson delivered the news as well as the thoughts and prayers of everyone to Coach Popovich and his family.
That sentiment was echoed throughout the NBA from fans, media, fellow coaches, and players, some of whom took to social media to offer up their thoughts and condolences to the Popovich family. Former Spurs player Stephen Jackson posted a thoughtful message to Pop on Instagram, saying he's "held up so many for so long it's our time to return the favor."
Former President Bill Clinton also reached out on Twitter to offer his condolences.
Other players from around the league offered their thoughts to the Popovich family as well, as the NBA world came together to try and provide some love and support in a difficult time.
https://twitter.com/JLin7/status/986771223781756928
https://twitter.com/JaredDudley619/status/986764771834736640
https://twitter.com/ShaunLivingston/status/986779833626701824