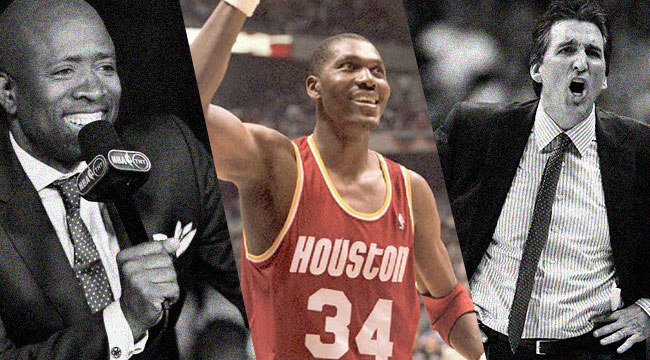 Prior to Game 1 of the 1995 Western Conference Finals, David Robinson and NBA commissioner David Stern stood at half court of the Alamodome. Robinson, who had capped off one of the most impressive individual seasons in recent memory and led the Spurs to the best record in the league at 62-20, was receiving his rightfully deserved MVP trophy.
During the regular season, Robinson averaged 27.6 points, 10.8 rebounds and 3.2 blocks per game and shot 53 percent from the floor. The Spurs, who had dominated the Rockets in their meetings that season, were trying to get to the NBA Finals, but had to go through the defending champs in a best of seven series first.
Robinson addressed the San Antonio faithful, thanking his teammates, his coaches, his family, and the fans. He referenced Shaquille O'Neal in his speech, and other great big men in the league like Karl Malone.
"This is probably the most important award I've ever won," Robinson said at the time. "The gold medal from '92 is more of a memory thing, I think. That team was unbelievable, and that was a big part of my growth process as a player. But, as an award, this MVP tops all of them, and if we win the championship, that obviously will go ahead of this one."
There was one glaring omission in the heartfelt speech, at least from the perspective of the other sideline – Robinson didn't mention the league's MVP from the year prior, Hakeem Olajuwon.

His Award
Kenny Smith says he was sitting next to Olajuwon after the speech and asked The Dream if he was upset that he wasn't recognized.
"I remember sitting next to him and going, 'Yo, that didn't make you upset?" Smith, now a longtime analyst on TNT's Inside The NBA, told DIME. "Because it made me upset that he didn't say it.' We're about to play them, and Hakeem won the MVP last year, and you're not acknowledging the fact that he's there, and that he's a great player, and had a great season. I was upset. But Hakeem, in true Hakeem fashion, said, 'No, he deserves the award, Kenny. He deserves the award.' Then he goes out and puts on a show."
Olajuwon outplayed Robinson in Game 1, and the Rockets stole San Antonio's home court advantage right out from under them with a 94-93 win. The Admiral went 1-of-11 in the first three quarters, and finished 5-of-17 with 21 points and nine rebounds (11 of those 21 points came on free throws). Olajuwon had 27 points (on 50 percent shooting), eight rebounds, six assists and five blocks.
"Hakeem comes to the bench," Smith said, "and he goes, 'Kenny, I'm going to go get my award.' I said, 'I knew you were upset!' David Robinson deserved the award, however, he said he had played with so many great players in the league, and he neglected to say Hakeem. I just thought that was a classic mistake not to acknowledge him."
In recent years, Olajuwon has said that the award he was referring to (and Robert Horry's claim that Dream said, "That's my trophy") was the NBA Championship (and to a lesser degree the Finals MVP). It could be a bit of revisionist history – and part of that goes with Olajuwon's humility and the fact that it's been 20-plus years – but there's no doubting that the Rockets' big man had some extra motivation, whether it was driven by the award itself or by playing against the MVP to get to the Finals.

One On One
The Spurs weren't sure what to do in the first couple of games defensively against Olajuwon. The one school of thought was to double him, but that would leave other shooters like Robert Horry open. When they did that, the Rockets made them pay through the first two games. Left one-on-one against Olajuwon early on in the series, though, Robinson struggled.
Robinson was put through the spin cycle time and again against Olajuwon, who used his footwork, fakes, fadeaways, and athleticism to make things difficult on the future Hall of Famer. In Game 2, Olajuwon had 41 points and 16 rebounds, and the Rockets grabbed a 2-0 lead heading back to Houston.
"A lot of teams will still decide to double Hakeem," Smith said, "and they said no. We felt, why should we be so offensively aggressive if Hakeem has his space to work? So, he worked. He worked to the fullest degree."
The Spurs committed to defending Olajuwon one-on-one and clamping down defensively in games three and four, and Dennis Rodman stepped up in a big way. While Rodman was typically much more comfortable around the hoop, grabbing rebounds and offering help in the post, he instead took away Horry's ability to hit big shots (as he was wont to do) and stretch the floor.
"That meant Dave had to single-guard Olajuwon a lot of times," former Spurs guard Vinny Del Negro told DIME. "And that would be tough for anybody."
The next two games, Robinson performed, well, admirably. After stealing Game 3 (when Olajuwon scored 43 points on 19-of-32 shooting), Dream was held to 20 points on 37.5 percent shooting (and Horry went 2-of-9) in a 21-point rout by the Spurs.
Dennis The Menace?
Del Negro thought Rodman, and the Spurs' rotation, was the key to the series as they tied it up at 2-2. But Rodman did what Rodman was known for in his time with San Antonio – he made waves.
Rodman was late for practice the day before Game 5, and he also reportedly showed up to the locker room late the evening of the game, as well. He claimed to be under the weather, but it was enough for coach Bob Hill to make the call to bench him for the start of the game. The Rockets pounced.
"We knew it was over then," Smith says of Rodman being held out of the starting lineup in Game 5. "You can't have any distractions in that environment. You have to pay so much attention to detail that if you're worried about things like that, and your team isn't unified, we knew right then we were going to win the series."
Del Negro also thought the benching made a huge difference. "I just think when you get that far," Del Negro said, "any distraction or anything that puts a dent in the armor a little bit isn't helpful. We had just come off two really big wins after being down 0-2 and being so disappointed in the way we played. Coming back and winning those two was a great boost for our team. We got home court back. And then to have to make that adjustment in Game 5, it set us back a little bit. We had such great forward rhythm. Anything can happen, but those distractions aren't helpful, I can tell you that."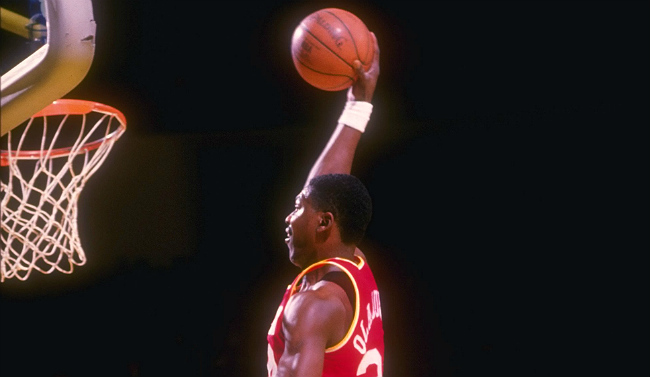 The Rockets took Game 5, 111-90, and the damage was done. Game 6 was close, but Houston won the series 4-2, capping off one of the great performances in NBA Playoffs history. Olajuwon finished the series averaging 35.3 points, 12.5 rebounds, five assists and 4.2 blocks. Robinson averaged a respectable 23.8 points, 11.3 rebounds and 2.2 blocks, but the MVP was completely overshadowed in the series. That's how good Olajuwon was against the Spurs. "I had never seen a performance like that from one individual," Smith said. Olajuwon would go on to win his second-straight NBA title and Finals MVP. He eventually got his trophy – even if that trophy wasn't a regular season MVP award. And Robinson would have to wait until 1999 – playing with a guy named Tim Duncan – to finally raise the Larry O'Brien Trophy.
"It was such a good rivalry," Del Negro said of the matchup between Robinson and Olajuwon. "They were two pillars of the league. You had two of the most dominant players ever, in David and Hakeem, at the same position, in the same state. There was always an extra incentive there. People say David got the MVP, and Olajuwon was more motivated. I don't know how much I buy that. Being around David and playing with him as long as I did, David was always motivated. I'm sure Hakeem was always motivated, too. The incentive was to beat them, and for them to beat us. They were two extremely competitive guys doing everything they could."