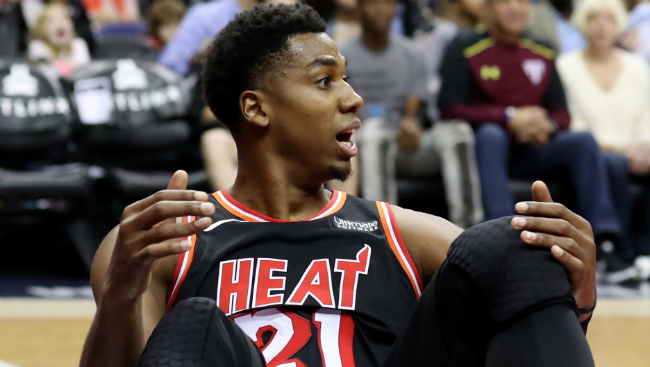 Heat center Hassan Whiteside has been dealing with a sore knee basically all year — he suffered a bone bruise in his left knee during Miami's season opener against the Orlando Magic and proceeded to miss the next five games. That was in mid-October, but the knee is apparently still giving Whiteside problems.
The fifth-year center will miss Miami's game on Wednesday night against the Knicks due to continued soreness in the knee, according to the Miami Herald. Even worse, Whiteside thinks there might be something to all this soreness, and is calling out the Heat's medical staff over not doing what they can to fix his bum wheel.
According to Ira Winderman of the South Florida Sun Sentinel, Whiteside had some harsh words over the way Miami has handled his knee, saying that he is suffering from a "serious issue."

The thing that makes this so interesting is that Heat coach Erik Spoelstra spoke on Whiteside's injury before the big man met with the media. Spoelstra made it sound like things are not as bad as you'd think they are if they mean a player has to miss a game.
Spoelstra is either knowingly ignoring the issues with Whiteside's knee or does not have the right information. Because the first scenario is patently absurd, this shows that there is an obvious disconnect between Whiteside and those who make medical decisions in Miami. The sooner the team gets to the bottom of what's wrong with Whiteside's knee so they can make a decision on how to proceed, the better.