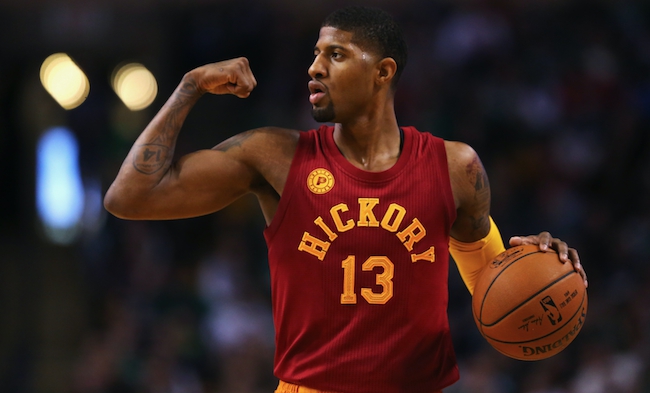 Paul George missed out on the All-NBA teams that were announced on Thursday, which means the Pacers can't offer him the super-max extension this offseason that would make him the richest player in the NBA, with a 5-year, $207 million deal. With the Pacers now only able to offer five years and $177 million, the difference between that and the four years, $130 million that other teams can offer next summer is far less significant when you consider that his next contract will likely start with over $30 million a year again.
That means that the Pacers must at least entertain the notion that they may need to trade George this offseason or at next year's trade deadline in order to obtain some kind of value for their star that could very well walk next summer, as his desires to play for the Lakers are well known.
This past trade deadline, the Pacers reportedly had talks with a number of teams about George, but chose to keep him, likely holding out hope that he'd make an All-NBA squad and be unable to turn down the massive extension.
In doing so, the Pacers turned away significant offers, as the Celtics and Hawks both reportedly came strong with offers. The Celtics seem like they could still be a potential trading partner, especially if the rest of their Eastern Conference Finals series with the Cavs goes the same way Game 1 did and they realize they need more firepower to challenge Cleveland. As for the Hawks, they have plenty of decisions to make on their own this offseason, but they reportedly brought the house to Indiana looking to pry George away, according to ESPN's Brian Windhorst.

Several teams made trade offers for George in February, including the Atlanta Hawks, who offered four first-round picks in exchange for him.
The Hawks also had to include players to at least come close to matching George's salary, and to imagine four first round picks for one player is fairly staggering at first glance. Now, none of those picks would have been lottery picks, presumably, but it's still a lot of ammunition that the Pacers could use to package together to either move up in drafts or acquire other players with.
We don't know exactly which picks the Hawks offered, but it was likely their 2017 first rounder, the 2018 lottery protected first-rounder from Minnesota, the 2019 top-10 protected first-rounder from the Cavs and one of the Hawks first round picks from 2019 on.
That certainly is an aggressive offer, and now that the probability of George leaving next summer has increased, the Pacers have to wonder if, in hindsight, they missed out on the best value from George. On the other hand, there is something to be said in trying to re-sign your star and not admitting defeat too early, which can cause fans to leave.
We'll see if the Pacers can find similar value this summer or at the trade deadline, or if they'll go down swinging in the summer of 2018 in trying to keep George in Indiana.