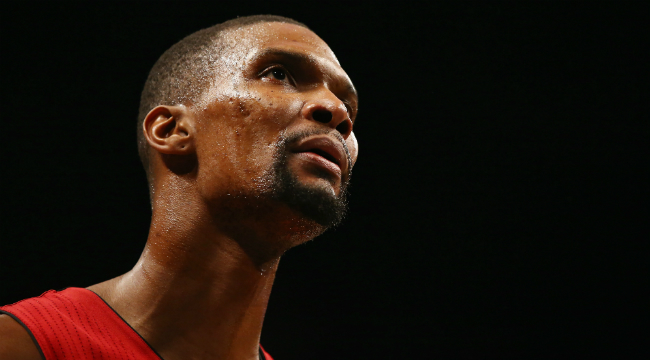 The last time we've saw Chris Bosh play basketball was right before the 2016 All-Star Weekend. Since then, complications from blood clots, which also limited his ability to play during the 2014-2015 season, have forced Bosh to remain sidelined indefinitely. This has caused a contentious back-and-forth between Bosh and the Heat as the 11-time All-Star believes he is healthy enough to play while Miami disagrees due to their doctors' medical reports.
But now the drama that exists between Bosh and the Heat may finally be coming to an end. And sadly, it also means Bosh's career is more than likely over.
According to the Sun-Sentinel's Ira Winderman, the NBA and its players' union have conducted their own medical review of Bosh's health, and their results show that it is unsafe for him to continue his career as his illness is considered career-ending. The results of this medical review allow the Heat to waive Bosh without suffering any penalty or owing him the remainder of the $52 million left on his contract. Bosh has two more years left on his deal in Miami.
For the Heat, this means they could now be a significant player during free agency this summer. But for Bosh, it means he may have to retire. Here's more on the nuances of the Heat waiving Bosh from Winderman:
The ruling leaves only the formality of the team placing the former All-Star forward on waivers to remove Bosh, 33, from their salary cap. The Heat have put off that maneuver until such salary-cap space is required, either for a possible trade at or near the June 22 NBA draft or the July 1 start of NBA free agency.

Bosh is guaranteed his remaining $25.3 million salary for 2017-18 and $26.8 million salary for 2018-19, much of it covered by insurance.

Once the formal application for waivers is made by the Heat, the team will immediately drop below the salary cap. The Heat will have about $37 million in salary-cap space available at the July 1 start of free agency with Bosh's salary off their cap.
Winderman notes that Bosh is still allowed to continue his NBA career elsewhere after the Heat waive him. But since this medical review reportedly says Bosh has a career-ending illness, it seems very unlikely that another team will want to take the risk of signing the two-time NBA champion.
Because of his health issues, Bosh's career has been up in the air for the last couple of years, and now we may finally have an answer to whether he can play again. That answer sadly seems to be no, which is just a tough way for Bosh's career, which was quite exceptional and filled with accolades, to end.