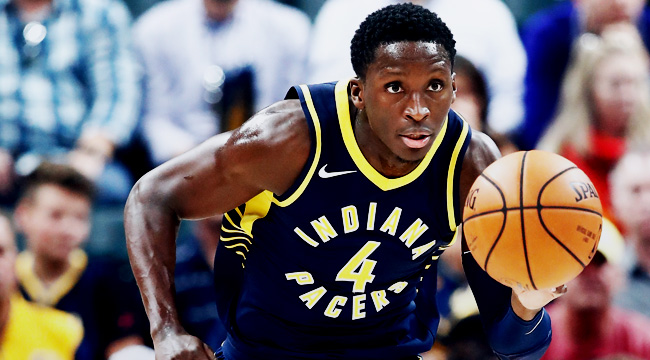 It's amazing what can happen when you get a chance to step out from under someone else's enormous shadow. Kyrie Irving managed to regularly steal the spotlight while playing alongside LeBron James for three seasons, but that was because he had already firmly established himself as one of the league's most capable offensive point guards prior to LeBron's prodigal return.
And now that he's shed whatever imaginary shackles he believed were still keeping him from reaching his full potential in Cleveland, we're witnessing a wiser, more refined version of Irving rapidly ascending toward his individual peak.
Victor Oladipo's career has followed a very different trajectory. He isn't the same kind of talent as Irving, but this season in Indiana, we're finally getting a chance to see him showcase some of that potential that made him the No. 2 pick in the 2013 Draft. Oladipo was on a tight leash during his first few years in Orlando and then had the misfortune of being paired up with Russell Westbrook last season, who tore a path of destruction across the league the likes of which we haven't seen in more than 40 years.
Oladipo played the good soldier while Westbrook chewed up all the scenery, never really distinguishing himself as a viable second option or even a modestly-formidable sidekick. It's hard to find a rhythm when the primary option has a usage rate of 41.7 percent. So when the Thunder were presented with an opportunity to land Paul George – even if only on a short-term loan – they didn't hesitate to package Oladipo with Domantas Sabonis and ship them out to Indiana.
The Pacers were roundly criticized at the time for allowing themselves to get fleeced unnecessarily on the deal, and that criticism, at the time, seemed perfectly justified. Indiana undoubtedly could've gotten more in return. Sabonis was a largely unproven second-year prospect, while Oladipo was looking more and more like a bust with each passing season.
But as is so often the case in the NBA, it's all about being put in a position to thrive. And that's exactly what's happened with Oladipo in Indiana this season. The raw numbers tell the story. His scoring average has jumped from 15.9 points per game to 23 points per game, and he's shooting more efficiently from the field (47.4 percent) and from long-range (46.2 percent, up from a respectable 36 percent last season) than at any other point in his career. As a result, he's the early front-runner for the Most Improved Award.
And these aren't empty stats. The Pacers are exceeding expectations behind their newfound star guard. They've won seven out of their last 10 games, and with a 12-10 overall record for the season, they sit in sixth place in a vastly-improved Eastern Conference that has outperformed the historically-superior West for the first time in recent memory.
What's most striking is just how comfortable Oladipo looks in his own skin. The fifth-year pro has admitted that his confidence had been shaken after being shuffled around the past couple of seasons, but the trust the Pacers organization has imbued him with has been evident in both his play and his demeanor almost from the start.
Upon his first return to OKC in late October, Oladipo obviously had something to prove against his former team. From the opening tip, he looked perfectly at ease attacking the defense and getting to the rim and stepping into transition threes. Indiana would lose, but Oladipo finished with 35 points on better than 61 percent shooting from the field and 5-of-8 from downtown.
https://www.youtube.com/watch?v=sCc1H5hCTz4
It was a sign of things to come. The very next game, Oladipo would score 13 of his 23 points in the fourth quarter against the Spurs and knock down the go-ahead three with 10 seconds remaining to give the Pacers a gritty 97-94 win at home.
Indiana would hit a four-game skid in early November, but they'd recover and win six in a row before their loss to the Rockets on Wednesday night. Nobody expected the Pacers to be in this position. When the front office traded Paul George, it was widely assumed the team would start their rebuild around Myles Turner and take a tax write-off on this season.
But Turner was sidelined for seven games after suffering a concussion on opening night, giving Oladipo an opportunity to shine. And the 25-year-old combo guard has been playing the best basketball of his career ever since. He's been so good — and the Pacers such a pleasant surprise — that it's threatened to rewrite the narrative about which team actually won that trade, given the Thunder's ongoing troubles.
It's a long NBA season, and a post-season berth is by no means a foregone conclusion. Oladipo and the Pacers will have to prove that they can be consistent over the long haul before we can draw any definitive conclusions about his career resurrection and/or Indiana's place in the Eastern Conference pecking order. That said, Oladipo has rapidly changed perception of his game and abilities around the league to start this season, and the Pacers may have kickstarted their post-Paul George rebuild much sooner than most anticipated.