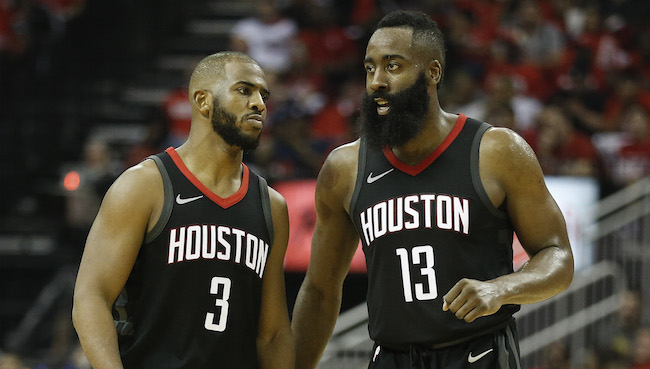 For the Houston Rockets, the 2018 NBA Draft was never going to be a major pivot point. The team traded both of its picks (No. 30 and No. 60) long before the 2017-2018 campaign began and, even with knowledge that Daryl Morey would have a second round selection (via Miami) to work with, the franchise was heavily focused on an NBA title pursuit behind the efforts of James Harden, Chris Paul, and Mike D'Antoni.
However, the future arrives whether teams are prepared or not and the Rockets do have the No. 46 pick to work with, courtesy of the Miami Heat, in their pursuit of success for the 2018-19 season and beyond. Traditionally, a pick of that magnitude isn't a franchise-changer but, in the event that Paul and Clint Capela re-sign in an effort to make another run, Houston won't have too much flexibility in which to tweak the roster from a depth perspective.
Adding a piece that contributes, even with a relatively low ceiling, at No. 46 overall would certainly be helpful, especially if there was a direct road to playing time in the early portion of the prospect's career. However, there are other options if they're looking to keep some added cap flexibility this summer. With that in mind, here are a few options that the Rockets could consider with their one and only draft pick in 2018.

Isaac Bonga – SG/SF, Germany – If the Rockets are looking to stash a long-term asset, Bonga might be the best available option. He is long (6'9) and obscenely talented with the ball in his hands, leading to a high ceiling if the parts come together. He couldn't play for the title-competing Rockets right now but Houston may look to preserve a roster spot for a veteran. Bonga would be a good developmental project.
Jevon Carter – PG/SG, West Virginia – Carter probably won't be available when the Rockets make a selection but he is landing outside the top 40 picks in mock drafts, even if that makes little sense. There isn't much ceiling with the former West Virginia star but he is a tenacious defender with a never-ending motor and enough offensive game to stay on the floor. In short, he'd be a great James Harden complement in a reserve role.
Kevin Hervey – SF/PF, UT-Arlington – Hervey is a very interesting potential fit in the mid-second round, especially given his potential to contribute immediately. Despite being a four-year college player, he is only 21 years old and, from a Houston standpoint, Hervey fits snugly given his length, shooting ability and overall versatility if everything goes according to plan.
Justin Jackson – PF/SF, Maryland – Looking at what the Rockets have been able to extract from players like P.J. Tucker, the fit makes a ton of sense with Jackson. Injury and production issues will push him down the draft board but Jackson was once seen as a potential first-rounder given his versatility (7'3 wingspan) and defensive ceiling. That player could still emerge.
Gary Trent Jr. – SG/SF, Duke – The Rockets value shooting on a grand level and that is Trent's best NBA skill by a wide margin. Concerns about the rest of his game might allow Houston to scoop him up in the middle of the second round but, if placed in a defined role, the results could be tremendous.