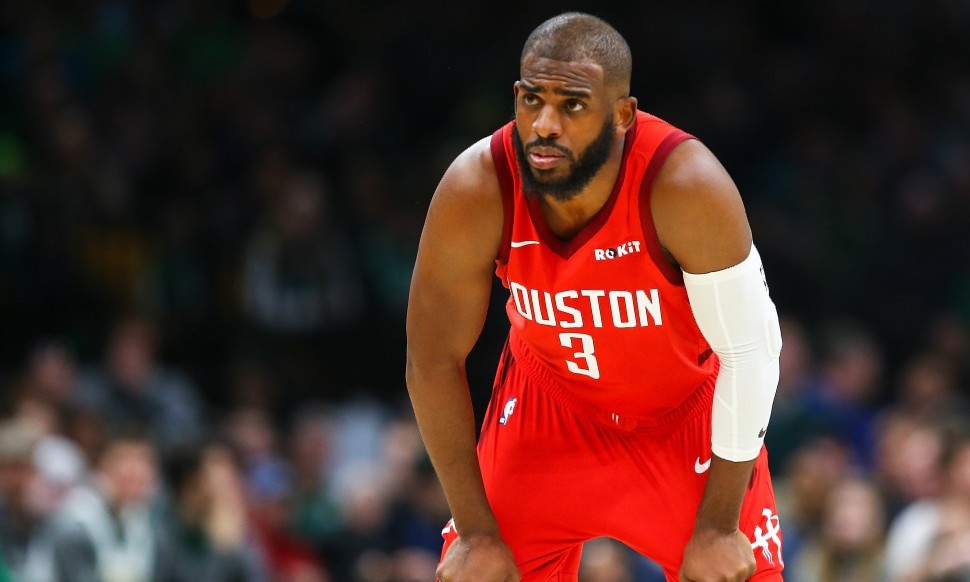 Daryl Morey and the Rockets are apparently ready to shake up their roster once again in the hopes of finally defeating the Golden State Warriors. With everyone but James Harden reportedly on the block, let's think about how Houston could meaningfully upgrade its roster for the 2019-20 season. For now, the exercise will be limited to Chris Paul, because moving Clint Capela doesn't create any flexibility for the Rockets. Also, centers don't have a ton of trade value.
Chris Paul's market presents an interesting parallel to Mike Conley. Any team that was willing to eat Conley's salary is probably willing to take on Paul as well, because even at this stage of his career, Paul is definitively the better player. However, Paul's contract lasts one more year than Conley's with an annual value of about $8 million more. Furthermore, trading with the Grizzlies is a different animal than making a deal with the Rockets because Memphis would prioritize future assets while Houston needs to get better now.
If the Rockets want to make a deal involving Paul, now would be a good time to do so before the Grizzlies start shopping Conley again and before Kemba Walker can sign in free agency. That said, after free agency closes, there will likely be a few playoff teams still looking to upgrade their point guard position to make a deeper postseason run.

Utah gets: Chris Paul
Houston gets: Joe Ingles, Jae Crowder, Dante Exum
Utah was the primary suitor in the Conley sweepstakes, and the Jazz desperately need a guard who can create on his own to minimize the offensive burden on Donovan Mitchell. Paul fits that to a tee, and he's old enough so that it doesn't feel like Utah is taking the team away from Mitchell. Paul also is a stout defender, which fits the Jazz ethos, and he prefers playing at a more methodical pace. He's clearly comfortable playing next to a ball-dominant guard and could probably teach Mitchell a thing or two about running an offense. Stylistically, this makes a lot of sense.
The Jazz would have to part with a significant part of their rotation, including one starter in Ingles, and another piece of their closing lineup in Crowder. However, the past two playoffs, ironically both against the Rockets, have proven that Utah needs more primary creators. Ingles is a decent secondary playmaker, and beyond him, the rest of the roster has very little creative juice.
Houston doesn't need playmakers, they need finishers. And they need a little more size so that Austin Rivers and Eric Gordon aren't the forward combination at the end of games. Crowder and Ingles would be instantly playable, as both can switch and hit threes, and Ingles can serve as a pseudo-point guard in the minutes that Harden sits. Exum is mostly salary filler here as his health remains a major question mark. He proved quite capable defensively last season, but there's little chance Mike D'Antoni would play Exum in high-leverage minutes with that jumper. Then again, who knows if D'Antoni will be making those calls in the near future.

Boston gets: Chris Paul
Houston gets: Gordon Hayward
The Celtics could very well be in the market for a starting point guard this offseason, and Paul is better than anyone on the free agent market, especially since Walker will likely command a maximum salary. The team has enough wings with Marcus Smart, Jaylen Brown, and Jayson Tatum, on top of potentially re-signing Marcus Morris, so Hayward becomes slightly expendable. Boston never really figured out how to incorporate all of their pieces anyway. Unlike Kyrie Irving, Paul has never been accused of being disinterested in teammates, although he's taken that approach pretty far in the opposite direction. The Celtics can also still trade for Anthony Davis and create another fantastic lob partnership between him and Paul.
The Rockets would probably require a pick from Boston to make this deal go through, given Hayward's injury history and his inferior status to Paul, but if they believed that he could return to his Utah form, this would be an excellent trade. Houston could start a perimeter trio of Harden, Gordon, and Hayward and even move Hayward to the four depending on the matchup. He can be a very good shooter with enough playmaking ability to fill a secondary role alongside Harden. Hayward was also an underrated defender in Utah and, again, at least provides some size on the wing. He isn't the perimeter stopper the Rockets are looking for, but at his Jazz peak, he most assuredly was not a weak link. This trade would require a leap of faith for Houston, but it could be exactly what the team needs.
Ultimately, simply going through the process of trying to find workable trades at this point in the league year creates real appreciation for what Morey managed to do when he acquired Paul two years ago. His contract is tremendously unfriendly for whatever team acquires him, not to mention his increasing fragility. Morey is among the most resourceful executives in the league, but even if he will find it challenging to move on from Chris Paul.