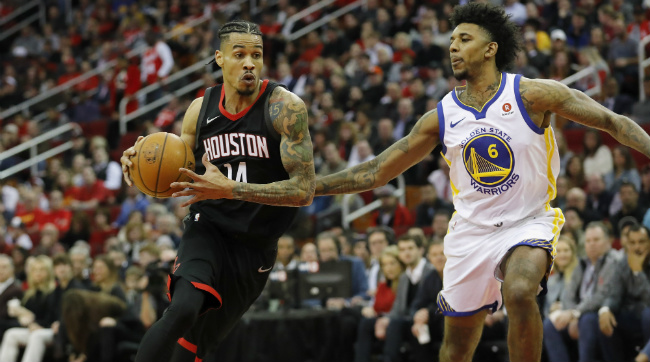 Gerald Green is really good at two things: Knocking down three pointers and jumping from far away from the rim en route to a thunderous jam. Considering how these are both skills that the Houston Rockets find extremely valuable, it makes sense that they would sign him to a contract and turn him into a serviceable role player.
On Thursday night against the Warriors, though, Green proved to be more than serviceable. The veteran swingman played a massive role in what turned out to be a loss, playing 34 minutes and scoring 29 points. Green went 9-for-16 from the field and 8-for-15 from three, giving the Rockets yet another scoring punch off of their bench.
Green was so good that, after the game, it was reported by Adrian Wojnarowski of ESPN that the Rockets will extend his deal from a 10-day contract to a guaranteed deal that lasts the entire season.

Green's performance against Golden State came one day after he lit up Orlando for 27 points, going 9-for-15 from the field and 7-for-10 from three. It makes all the sense in the world that the Rockets would want to keep Green, a native of Houston, around for as long as they can. And once James Harden comes back from an injury, Green can be a devastating spark plug off of Houston's bench, because the Rockets are the kind of team that always want more guys that can go for 30 a night.