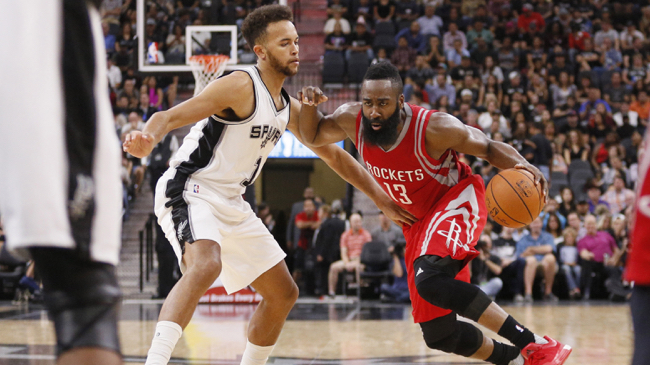 The 2015-16 NBA Season starts soon, preseason hoops are in full swing, and playoff prognostications have begun in earnest. Since season previews can get bogged down by team-specific minutiae, and we cover every basketball team, we're providing our readers reasons why you should care about all 30 teams in the Association.
---
---
There are smart basketball minds who think the Rockets have a very real shot to win the title in 2015-16. They've got one of the top basketball players in the world in James Harden; they're got bodies in the front court to defend the rim (Dwight Howard), and extend the defense in the NBA's ever fashionable small-ball lineup (Donatas Motiejunas); and they picked up an offseason acquisition, Ty Lawson, who could be just the juice they need to survive the West.
That's all any of these top-tier teams out West can do. Survive. The talent level is so incredibly high in the top half of the conference, it's impossible to tell if anyone has an advantage until we start the season and throw all of them together in a medley of super team soup. A very real concern for Houston, as these teams are hacking away at each other: can they ever stay healthy?
Dwight hasn't suited up for a single postseason contest and it becomes more and more clear he's just never going to be fully healthy again. Take note young basketball players, if you come into the NBA out of high school and you're abnormally large, it might be smart to play a couple shorter NCAA seasons (if your family isn't struggling financially). Teenagers aren't supposed to prance up and down an NBA hardwood when they're near seven feet tall and over 250 pounds.
But we digress. The Rockets are deep again, too. Yes, Smoove is in LA now, but Lawson was a big pickup, and they've got Trevor Ariza, Corey Brewer, and rookie Sam Dekker on the wing. Clint Capela looked really good in short bursts during last year's playoffs and should see a lot of time at center, depending on Howard. Terrence Jones, Donanatas Motiejunas and rookie Montrezl Harrell will man the four, and it'll be up to Kevin McHale to juggle all those big bodies in the frontcourt.
But that's a good problem to have. The real question — and one that every coach for every contending team has to navigate — is which pieces will fit the best together?
Lawson and Harden together in the backcourt, and a forgotten Patrick Beverley
There's no way to predict how Lawson's inclusion will play over an entire season. In a lot of ways, Houston's move to bring him aboard is a release valve for their MVP, and an elite player to dominate second team's to start second quarters.
That's because Lawson will be used as a sixth man and Patrick, the pest, Beverley will start at point guard. Lawson will get some run with Harden, which will allow him to spot up more along the perimeter, something he hasn't been familiar with since he was in Oklahoma City. Perhaps Harden can even offer Lawson some advice on coming off the bench?
But Lawson is around to play second fiddle to James and to offering interesting lineup combinations for McHale. So far in preseason play, he's scored at a high rate — the second highest on the team (Trevor Ariza is at the top), according to Synergy.
Lawson's game is based on speed, and the alcohol issues that almost forced Denver to deal him away (for next to nothing) makes one think that his best days are behind him. But a change of scenery, the first in his career, could be just the thing for him to turn down that third bourbon in his first hour at the club. That sort of laissez-faire approach to conditioning won't treat him kindly as he creeps ever closer to his 30s (he turns 28 in less than 10 days), and it'll also limit what he can do for Houston. Speed is his biggest commodity, so he better find a way to leverage that skill as much as possible before it leaves him. And it will leave him. It leaves everyone.
Thankfully, Patrick Beverley is back and with a new deal, too. They really missed him in last year's Conference Finals. Beverley would've been one of the perfect antidotes to Steph. It's not that he could shut him down — no one can right now — it's that he's a more imposing obstacle than Jason Terry ever could be. Plus, with Lawson ready to rumble, Beverley can focus almost exclusively on his defense.
Not that Patrick was shooting a ton before, but he's accurate from deep, enough so you can't leave him wide open in the corners. Still, he got his new deal for his ability to get under an opponent's skin, especially if that someone is a top-tier point guard — of which there are plenty in the West these days.
There's no way to know how much Lawson, Beverley and Harden will share the court in super-fast lineups for McHale, but it's worth pondering since Harden or Beverley could probably guard an opposing three, and they'd spread the court really well – especially if they moved someone like Ariza to the four.
Regardless of how McHale mixes and matches his new toy in the backcourt, the Rockets just removed a lot of stress from their star's body. A big reason why there was such a vocal segment championing Harden for MVP last season stemmed from just how much of a load he had on his shoulders. This year, barring another unfortunate turn with their health, Beard will be a lot more fresh once the playoffs roll around. That's why it's not inconceivable we see a jubilant and red-faced Daryl Morey on the podium in June, with a smiling Ty Lawson hopefully taking it easy on the bubbly.
The Rockets are title contenders. Get used to it, and stop complaining about their three-and-free-throw ethos. It works. There's empirical data — with graphs and everything — that support how effective it is to take a huge number of three-pointers, shots at the rim and free throws. If you look at all three cumulatively, Harden might be the best in the league. We all better get used to that, too, no matter how much it hurts your aesthetic sensibilities. Looking good doesn't win basketball games; points do.
The log-jam in the front court if Dwight Howard stays healthy
The Houston Rockets' starting frontcourt is Terrence Jones and Dwight Howard. Injuries limited that tandem just 10 games during the 2014-15 regular season, during which Kevin McHale's team went 8-2. Lineups featuring Jones and Howard had offensive and defensive ratings of 113.5 and 94.2, respectively, good for a net rating of +19.2.
Donatas Motiejunas, who shot a league-high 53.4 percent on post-ups last season, mostly avoided the injury bug that bit Jones and Howard – until the playoffs, that is. A back injury from which he's still recovering sidelined the talented lefty when it mattered most last spring, robbing Houston of not just its best reserve, but the player perhaps most well equipped the style the Golden State Warriors' vaunted small-ball unit.
Clint Capela played 38 games in 2014-15 for the Rio Grande Valley Vipers. After being called up to the Rockets just before the postseason, he quickly became a fixture of McHale's depleted frontcourt, flashing the unique quick-twitch athleticism normally reserved for starters. The 21-year-old continued that progress during preseason play, and seems primed to emerge as a key cog off the bench in his sophomore season – and an extremely capable fill-in for his oft-injured teammates.
Houston made headlines this summer by acquiring Ty Lawson for pennies on the dollar, and rightfully so. The former Denver Nuggets point guard isn't just a borderline All-Star at his best, but also a crucial extra playmaker the Rockets have long lacked to ease the heavy, heavy burden on James Harden. He represents a major, major upgrade for this roster.
But Lawson's addition still might not be what propels Houston to the next level. Health is what most doomed McHale's team last season, and seems the factor likeliest to stand in its way of winning a championship in 2015-16, too. And while that's a scary reality for the rest of the league, it's also one just two or three other teams in the NBA are good enough to say – even if no one is quite ready to realize it.