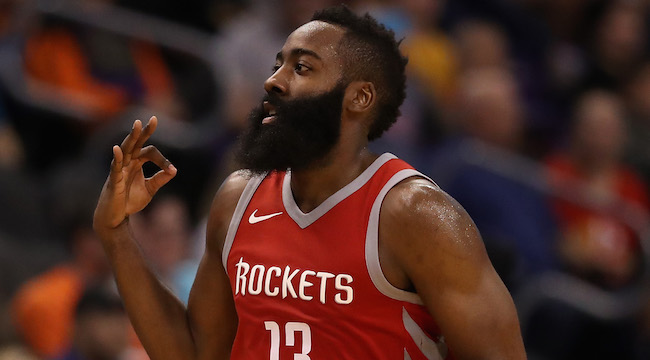 James Harden, Chris Paul, and the Houston Rockets are playing absurdly well at the moment, which is evident by their active 14-game winning streak on the way to the NBA's best record. While much of their 25-4 mark can be attributed to improved work on the defensive end (now seventh in the league), Houston's calling card will always be on the offensive side of things. More specifically, the Rockets' success comes from their willingness to hoist shots from beyond the three-point arc.
To the surprise of no one, the Rockets own the best offense in the league on a per-possession basis and the team has already attempted 1,254 shots from three-point range (in 29 games) when compared to 1,017 to the league's second-most prolific shooting team in the Celtics (33 games). While that says enough, Zach Kram of The Ringer unearthed a statistic that really drives the point home.
Yes, you are reading that correctly.
Obviously, the Rockets won't be attempting two-point shots on their next 774 shots, so seems very safe to assume that Houston will sit atop the league in three-point attempt rate. At the moment, Mike D'Antoni's team is attempting a staggering 51.6 percent of its shots from long-range, besting its own record of 46.2 percent from the 2016-2017 season.
Prior to that, no NBA team had ever attempted more than even 40 percent of its shots from long distance and, while the Warriors get a lot of credit for the fantastic work of Stephen Curry and Klay Thompson, it is the Rockets setting a brand new standard when it comes to full-team output.
Individually, Harden leads the NBA by a comfortable margin with 314 three-point attempts and, amusingly, teammate Eric Gordon ranks second with 251 attempts of his own. Only Trevor Ariza joins them in the top 20 when it comes to raw attempts but players like Ryan Anderson (attempting 74.2 percent of his shots from three-point range) contribute greatly to the barrage. It is a systematic approach that begins with the front office before trickling down to the coaching staff and, of course, the players themselves.
Simply attempting more threes isn't always a foolproof plan to improve offensive effectiveness, but the Rockets are poised to shatter every record for aggressiveness from outside the arc. So far, it certainly seems to be working.