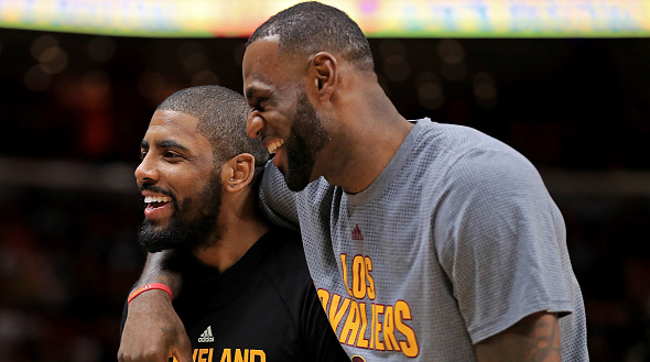 Throughout the entire Kyrie Irving trade saga, there were rumors that his relationship with LeBron James had deteriorated. Irving reportedly blindsided LeBron with the trade request that he brought the Cleveland Cavaliers in July, and there were rumblings and perceived shots on social media that seemed to back up this narrative.
But Iman Shumpert rejects all of this. Shumpert, who is still in Cleveland even though his name has been kicked around as one to watch due to a trade request (something he has denied), appeared on Complex's "Everyday Struggle" and discussed the move.
At one point, Shumpert gave a very basketball-centric reason as to why Irving requested a trade. (Transcription via Cleveland.com)
"(People say) it's LeBron and Kyrie hate each other," Shumpert said. "No, it's two dudes that need the ball. LeBron needs the ball, Kyrie needs the ball, Kevin (Love) needs the ball. Swish (J.R. Smith) can't shoot unless he has the ball. Kyle Korver can't shoot unless he has the ball."
This is a common concern when it comes to superteams, that there's only one basketball and not everyone will be happy with their situation on the court. According to SLAM, Shumpert says he and other Cavs players weren't at all surprised by Irving's trade request.
Apparently, Shumpert — who is still close to Irving — says that the need for more possessions more or less led to the decision to request a trade. Shumpert gave a little more insight into the deal, saying "I don't think it's (forget) LeBron. I think it's more of, 'I learned, we won together, it's time for something different.'"