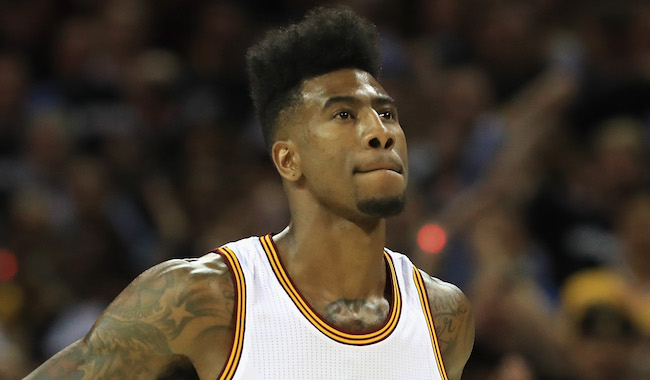 Iman Shumpert appeared in only 14 games during the 2017-2018, with none of those appearances coming in a Sacramento Kings uniform. On Monday, however, the 27-year-old guard appeared to hint on his Instagram Story that his stay in Sacramento would be longer than the few months guaranteed when he was traded from the Cleveland Cavaliers in February.
Shumpert underwent knee surgery in November, forcing him to the sidelines for an extended period and eventually playing a part in his move to Sacramento. In this case, though, the former Georgia Tech standout seems to be referring to his player option for the 2018-2019 season, assuring that he'll be "wearing purple a lot" and shedding light on the $11,011,234 salary that he would earn if the decision was made to exercise the option.

In some ways, this is a no-brainer for Shumpert, even on a market that greatly values wing players. He enjoyed something of a bounce-back campaign in 2016-2017, converting 36 percent of his threes and appearing in 76 games for Cleveland, but Shumpert almost certainly would not earn an eight-figure salary annually on the open market, making this an easy financial decision.
As for the Kings, Sacramento will already be paying $8.7 million to Kosta Koufos, after the big man made the decision to exercise a player option of his own. The organization will still be awaiting a similar decision from Garrett Temple (though his choice isn't quite as easy as his duo of teammates) but, even in a worst-case scenario, Sacramento will be entering the summer with more than $20 million in salary cap room to play with in a league that is strapped for flexibility in many ways.
Iman Shumpert may not be a key cog for the Kings but, according to his own social media presence, he looks to be hanging around for next season and he'll be handsomely compensated for his efforts.