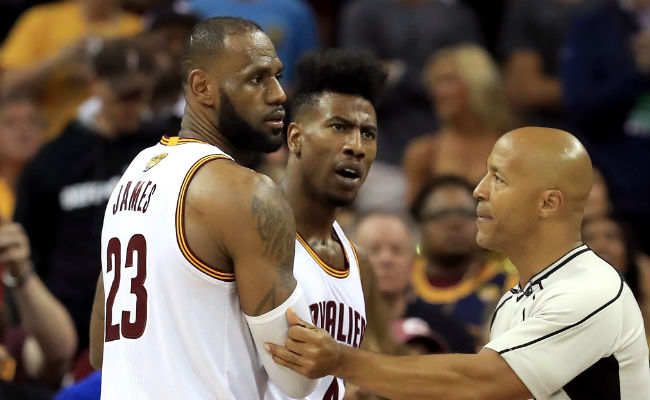 Kyrie Irving's trade request became the story of the NBA offseason as the summer wore on. Why would a player want to leave a loaded Cleveland team with LeBron James leading the way? As the days wore on, the issues lying underneath all that success for the Cavs became clear.
Irving was traded to Boston on Tuesday in a move that brought the Cavs point guard Isaiah Thomas in return. It's also a move that seemingly ended the drama with the Cavaliers, who might eventually get Dwyane Wade should a buyout come in Chicago. But beyond that, the roster seems settled for the most part.
But now it seems that Irving wasn't the only unhappy guard on Lake Erie. ESPN's Dave McMenamin reported Friday that backup point guard Iman Shumpert had asked for a trade this summer as well. That would make it two point guards who asked out within a matter of weeks.

Via McMenamin:
Lost in the attention surrounding Irving's trade request is that Iman Shumpert also requested a trade after the season, multiple sources told ESPN. Cleveland was in talks to trade Shumpert and his $10.3 million contract to Minnesota or Houston, but both deals fell apart. Logic would tell you that the Cavs will remain motivated to find a team to take Shumpert.
Shams Charania reported on Friday, though, that Shumpert didn't ask for a trade. Rather, the Cavs are simply shopping him.
The Charania report honestly seems more likely at this point. Shumpert said he was "grabbed out of hell" when the Cavs took him off the New York Knicks' hands, and he hasn't voiced any complaints about playing time or anything like that under James and Irving. What we're left with here is a source war, which means there's certainly smoke about possible trades, we just don't know exactly where it's coming from.