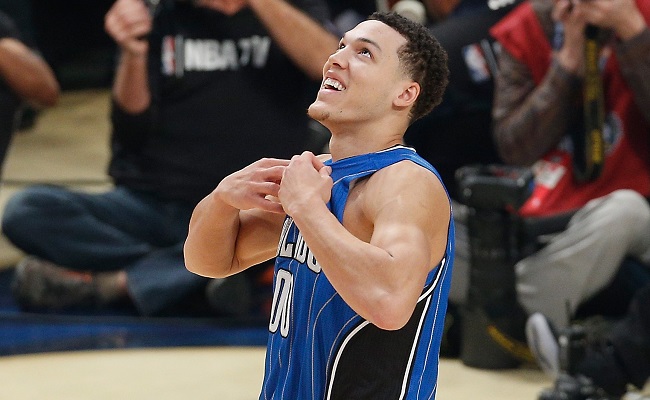 While the restricted free agent market is expected to be tight around the NBA this summer, that does not appear to apply to Orlando Magic forward Aaron Gordon. On the heels of all kinds of buzz that Gordon could be in high demand, ESPN's Adrian Wojnarowski reported that the Indiana Pacers, who possess the requisite salary cap space to make an enticing offer, are among the teams with interest in Gordon.
If Gordon isn't the top restricted free agent available, he is certainly on a (very) short list. The 6'9 forward will not turn 23 until September and Gordon was highly productive last season, averaging 17.6 points and 7.9 rebounds per game for the Magic. The swing skill for Gordon is his jump shot, which showed flashes in the early going before settling in at an unspectacular rate of 33.6 percent from beyond the arc in his fourth NBA season.
Still, it is easy to see why the Pacers (and other teams) would target Gordon, who is young enough to fit on any timeline while also bringing present-day value with athleticism and upside. As for his old team, the Magic have quite a checkered salary cap sheet and, with Jonathan Isaac and 2018 lottery pick Mo Bamba already on board, there could be something of a squeeze for Orlando. Depending on how lucrative the offer sheet is, the Magic would at least have to think about matching it, particularly given the fact that Gordon's best position appears to be power forward at this point.
The Pacers could build on what was already a very encouraging 2017-2018 season by adding a legitimate talent in Gordon and they can offer him a salary that will make the Magic think twice. That is a dangerous recipe in restricted free agency and, at this early stage, it is also conceivable that Indiana won't be the only team willing to pony up considerable money for Gordon.