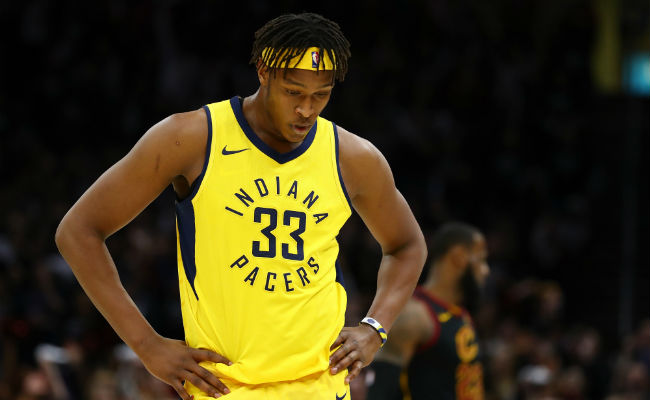 The Indiana Pacers have now locked up what they believe to be their foundational pieces for the future in Victor Oladipo and Myles Turner.
Oladipo has three years remaining on his contract at $21 million per year after being dealt to Indiana last season for Paul George and emerging as an All-Star for the Pacers. On Monday, the Pacers beat the deadline to reach an extension with their young star center Myles Turner, with a new deal that will pay him $80 million over the next four years.
ESPN's Adrian Wojnarowski reports the deal is for a base salary of $72 million, with incentives that can push it to the $80 million originally reported.
This seems like a good deal for both sides, as Turner gets paid handsomely and certainly has plenty left to prove in his game, but, if he takes another step forward this season, the Pacers likely save on this deal compared to what he might have received on the restricted free agent market.
Turner averaged 12.7 points and 6.4 rebounds in 28 minutes per game last season, and has shown the ability to expand his shooting range to be an offensive threat from all three levels of the floor. Turner shot 35.7 percent on threes in 2017-18 on 2.4 attempts per game, and if he can stay healthy this season, he could be a breakout player in the Eastern Conference.
Indiana clearly believes Oladipo and Turner belong as key pieces of their core of the future and have paid them as such. Now it's on them to continue growing as players and on the organization to spend wisely this coming summer to surround them with quality players as they're set to have major cap space.