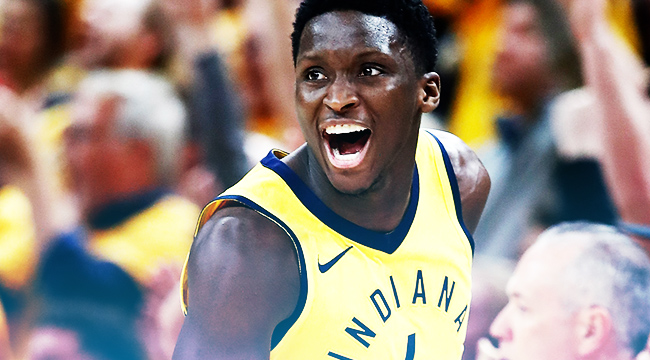 After a fantastic season in 2017-2018, the Indiana Pacers formally announced a contract extension for head coach Nate McMillan on Tuesday and the news came as no surprise. Aside from word of the deal leaking a few weeks earlier, the Pacers seemingly overachieved on the way to 48 wins a season ago and, in many cases, the credit for that type of breakout is given, at least in large part, to the head coach.
"I'm really proud of what Nate and our coaching staff have done," said Pacers President of Basketball Operations Kevin Pritchard in an official release. "Nate is very deserving of this extension. We have a wonderful culture and he has been a big part of implementing that culture. He's dedicated leader, a very good coach and we're lucky to have him here with the Pacers."
There is no question that McMillan did yeoman's work during the 2017-18 campaign, maximizing the talent on a roster that did not project anywhere close to the 48-win performance that came to be. Still, things are now different in Indiana, with the Pacers set to enter a season in which they won't be sneaking up on anyone as real expectations arrive.
While there was some good fortune in the Pacers compiling 48 victories (with a point differential more indicative of a 45-win team), the biggest reason for Indiana's uptick was the play of Victor Oladipo. The 26-year-old guard made the rare leap from a player cast as overpaid and underperforming in Oklahoma City to someone with legitimate star power in his new home. Oladipo averaged 23.1 points, 5.2 rebounds and 4.3 assists over the course of 75 games and, in short, there is no reason to suggest that his performance won't represent a "new normal" as a legitimate star in the NBA.


If that is accepted as the baseline for the team's best player, expectations to repeat a similar team-wide performance become more reasonable. The Pacers did have the positive fortune of good health a season ago, with each key member of the rotation playing 65 games or more and the team's three leading players in minutes (Oladipo, Thaddeus Young and Bojan Bogdanovic) appearing in at least 75 contests. That might be cause for relative concern in some ways but, on the optimistic side, Indiana added quality depth to the proceedings, which should provide insurance.
Tyreke Evans, Doug McDermott and Kyle O'Quinn arrive as supporting pieces, with only McDermott receiving a long-term pact in Indiana. The merit of that particular contract can (and should) be debated in the future but, with Evans and O'Quinn, the Pacers add quality veterans that represent upgrades from rotation pieces prominently involved in last season's team. Even in McDermott, Indiana now has another long-range shooter to add to the mix, which should provide much needed spacing and the ability for McMillan to tinker with lineups toward positive outcomes.
More than anything, the summer of 2018 was about keeping the salary cap sheet for the Pacers, who have less than $40 million in guaranteed salary allocated for the 2019-20 season. It has to be noted that players like key cogs will be hitting free agency, leaving Indiana with less money to play with in the free agent market than you may expect, but the Pacers have the combination of flexibility and a team ready to compete for a top-four seed that many organizations absolutely (and rightfully) covet.
Make no mistake, there is a world in which the Pacers see some level of regression this season, whether hindered by injuries and/or the leveling off of players that made grand strides last season. Still, the addition of quality pieces like Evans and McDermott should help to ease the burden on Indiana's primary rotation players and McMillan has seemingly found the happy medium in deploying this squad in optimal fashion.
There are teams with more talent in the Eastern Conference and it would be a surprise if the Pacers jumped the likes of the Celtics, Sixers and Raptors for a top-four slot. Beyond that, though, there is reason to believe that Indiana might have the inside track at the No. 4 seed and, less than one year ago, that would have been virtually unthinkable.