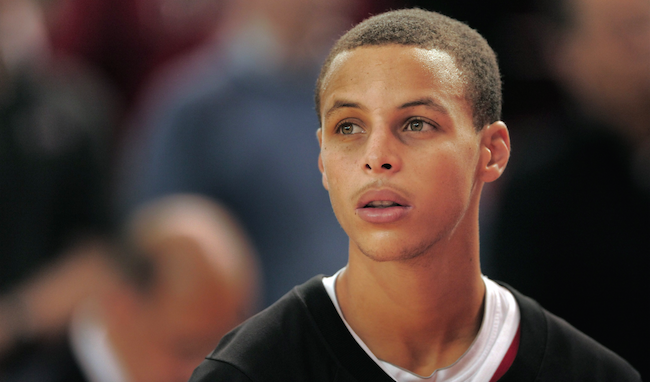 Steph Curry was a superstar long before he emerged as the NBA's leading MVP candidate.
It was seven years ago the baby-faced assassin burst onto national scene by taking mid-major Davidson College on one of the most memorable runs in NCAA Tournament history. Exhibiting the surreal shot-making ability and mesmerizing ballhandling skill that have combined to make him perhaps the most devastating offensive player in the world, Curry averaged 32 points per game and drained 23 long-balls while leading the Wildcats to the Elite Eight.
And though his college career ended and NBA ascent began after the following season, the University of Iowa wanted to be completely sure Curry wasn't suiting up for Davidson during the schools' first-round matchup in the NCAA Tournament.
Damn!
We sure wish Curry could take some time from the professional grind to wreak havoc during March Madness for old time's sake. The 52-13 Golden State Warriors could get by without him for a couple weeks, right? After all, they're six and-a-half games up on the second-place Memphis Grizzlies in the Western Conference standings.
But don't worry, Iowa fans – NCAA rules prohibit such fun. It will be up to Davidson sharpshooters Tyler Kalinoski and Jack Gibbs to do their best Steph impersonation.
The seven-seeded Hawkeyes and 10-seeded Wildcats face-off at 7:20 EST on Friday.
[H/T Bleacher Report, reddit]